Chile will not host APEC trade meeting and COP25 climate conference: "common sense"
Thursday, October 31st 2019 - 09:50 UTC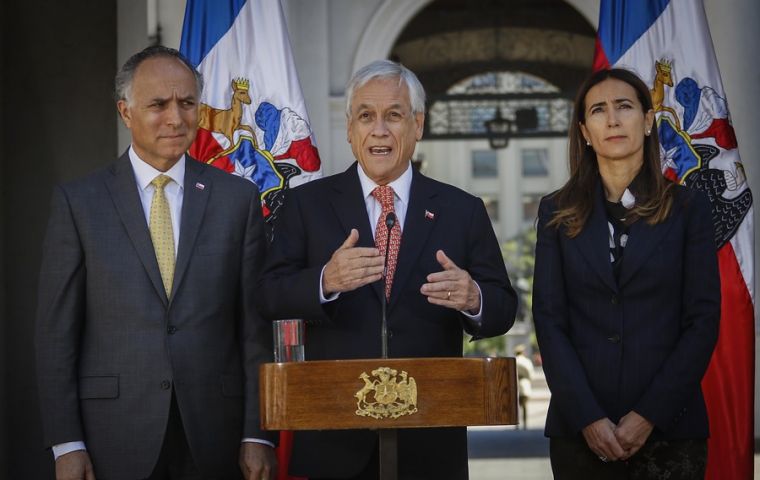 Chile has withdrawn as host of the Asia Pacific Economic Cooperation (APEC) trade summit in November and the COP25 climate conference in December after several weeks of violent unrest, President Sebastian Piñera announced on Wednesday. He described the decision as "deeply painful" but "common sense" dictated the decision to withdraw from the two major international summits.
US President Donald Trump had said he was planning to meet Chinese counterpart Xi Jinping to lock down a "phase one" agreement at the Nov 16-17 APEC meeting that would partially have ended an 18-month trade war between the world's two biggest economies.
After more than 10 days of street protests, however, Piñera said Chile was not in a position to host that gathering or the Dec 2-13 climate convention.
"This has been a very difficult decision, a decision that causes us a lot of pain, because we fully understand the importance of APEC and COP25 for Chile and for the world," Piñera said in a brief statement from La Moneda palace in Santiago.
But he said "common sense" dictated that he had other priorities.
"When a father has problems, he must always prioritize his family over other options. The same goes for a president, he must always put his own compatriots first, ahead of any other considerations," he added.
Chile's decision caught the White House by surprise, a White House official said. The official indicated Washington learned about the decision from news reports and is seeking more information.
Trump still hopes to sign a trade deal with Xi in the coming weeks despite Chile's cancellation of the APEC summit where they had been scheduled to meet, the White House said.
"We look forward to finalizing phase one of the historic trade deal with China within the same time frame, and when we have an announcement, we'll let you know," spokesman Hogan Gidley said in a statement.
Chile is grappling with its worst social crisis in decades that shows little sign of abating despite Piñera announcing a raft of measures aimed at placating protesters.
Riots, arson and protests over inequality this month have left at least 20 dead, 7,000 arrested and Chilean businesses hit with losses of around US$1.4 billion. The capital city's metro public transport suffered nearly US$400 million in damages.