"No one from the Fernandez team has spoken officially on the Malvinas issue"
Monday, November 4th 2019 - 09:59 UTC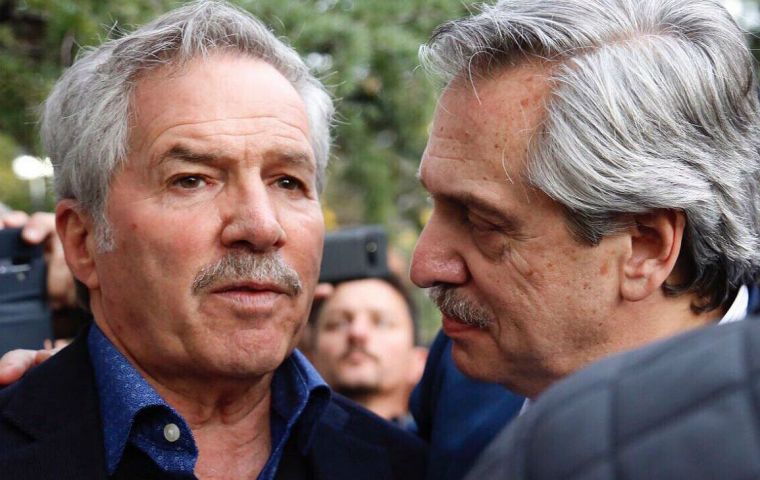 Felipe Sola is a pragmatic Peronist, ex Agriculture minister with president Carlos Menem, former elected governor of the Buenos Aires province, the most significant electoral circumscription of Argentina and is increasingly mentioned as the next minister of foreign affairs and worship. Solá is currently with president-elect Alberto Fernandez in Mexico and before leaving was interviewed and made some announcements referred to the "Malvinas Islands".
"Things they are saying around there are not so. No one from the team of Alberto Fernandez has spoken officially about Malvinas, is that clear?, nobody has spoken", insisted Sola who apparently was referring to reports published in the Buenos Aires media indicating the incoming government was prepared to drop or demand a reconsideration of the Madrid Accords, which helped to normalize relations between UK and Argentina after the South Atlantic conflict.
Other items in the agenda include the Duncan/Foradori communiqué from 2016, which among other things opened the way for the identification of Argentine soldiers remains buried as "only known to God" in the Falklands, which has been considered a great humanitarian success and is in the process of a second chapter, identifying four soldiers in a single grave. This apparently has been agreed by all sides including the International Red Cross which leads the task. Likewise the second weekly flight to the continent linking the Islands with Sao Paulo and a monthly stop in Cordoba. By the time Fernandez take office on 10 December, several flights should have been completed.
However it must be remembered that the sanctions implemented to companies involved in fishing and hydrocarbons in the Falklands, despite the September 2016 understanding stand, although joint scientific cruises (Argentine/UK) to check on stocks in the South Atlantic, even in Falklands waters, have been taking place.
Additionally apparently members of the Fernandez team in diplomatic contacts have anticipated there will not be a policy of hostilities referred to the Falklands' dispute, and it should not be forgotten that talks to implement the humanitarian mission of identifying the remains of Argentine combatants in the Falklands was started during the presidency of Cristina Kirchner.
But said this, it is also a fact that Solá has yet to be officially named. "The issue has not been announced yet. I can't confirm it until the president elect makes if official, but I'm getting used to the idea, step by step. And if it happens it's going to be a major challenge. Now I'm more worried about what is happening in the country than to where ever they nominate me", the acting foreign minister confessed in a television interview with Nelson Castro.
Again Solá is a member of the very small delegation visiting Mexico with Fernandez and well aware of the agenda, and equally relevant there was a message for Brazilian president Jair Bolsonaro, who openly preferred Mauricio Macri's reelection over the Alberto Fernandez/Cristina Fernandez victory.
Bolsonaro is also furious with Fernandez for having formally requested that ex president Lula da Silva be set free, he did both as presidential candidate and as a criminal law professor. The jailing of Lula on corruption charges catapulted Bolsonaro to the Brazilian presidency.
"We are going to try by all means to establish an absolutely normal relation and if possible, a very close one. Brazil is very dear for us, and for millions of Brazilians we are also very dear to them", said Solá. His comment follow some coarse expressions from the Brazilian president and one of his son towards, Fernandez and his son.
"Personal and ideological differences have been mixed with homophobia and racism, something which we do not expect from a president or his son" added Solá. Anyhow there is a Mercosur summit next 5 December and president Macri will be attending and political politeness indicates his successor is also invited, which means Bolsonaro and Fernandez could be meeting.
As to Venezuela the other major contention in the region, Solá said the new administration discards point blank any military option, insisting on dialogue and a political solution, such as anticipated elections, supervised by all South American countries, or those wishing to do so.
Finally regarding the United States, "it is essential for our government and for Argentina to have a very good relation with the United States. This seems to have happened since Donald Trump contacted Fernandez and offered his full support, as well as telling him, "whenever you need, just ring me".
Felipe, quite impressive for a still unconfirmed foreign minister!!