Tatham Jr. optimistic about Brexit and a future UK/US trade deal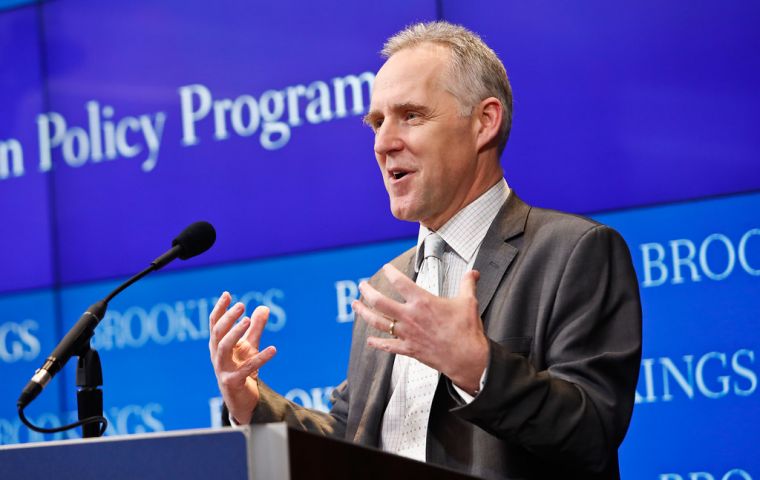 The Brexit mess finally will clear, one way or the other, and when it does, big Chicago exporters such as Boeing and Abbott Labs and their peers from around the country will be able to focus on the benefits of doing business with the United Kingdom.
That's the message from Michael Tatham, the acting U.K. ambassador to the U.S., who was on a visit to Chicago recently.
Tatham comes from a diplomatic family: his father, David was ambassador to Lebanon and governor of the Falkland Islands.
"I get it. Business wants certainty and a sound basis to make decisions," he says, referring to such uncertainties as to whether Britain finally is going to leave the European Union and who will win next month's U.K general election. "The government is working as hard as it can to resolve the Brexit issue."
But when the dust finally settles, he says, fundamentals will come to the fore. "What you see is a U.K. with formidable economic strengths…(including a highly competitive tax structure.)"
Economic data suggests there indeed is a lot of trade and investment back and forth between the U.K. and Chicago and the rest of the Midwest.
According to US data, the U.K. is Illinois seventh-largest largest export partner (behind Japan), with US$ 1.9 billion in goods shipped there in 2018. Other data provided by the British consulate in Chicago indicate that U.K. firms operate more facilities with more jobs in Illinois than any other country, 62,800. Adds the consulate, "Every day 1 million U.S. citizens go to work in U.K., and vice versa."
Tatham says those numbers could grow if a final decision on Brexit clear the way for a U.K./U.S. free-trade agreement. "I think there's political enthusiasm for that both in London and Washington."
But Tatham's comments came before President Donald Trump suggested that some terms in the latest version of Brexit might block a bilateral deal. Trump did not specify which terms he was referencing.
However, according to the report from Illinois media, Michael Tatham was back to being a diplomat when asked about the U.K. might break up if Brexit goes through, with Scotland and perhaps Wales and Northern Ireland wanting to go their own way.
"The government's position is that all parts of the country benefit" from Brexit, said Tatham. "The government's view is that the union benefits all parts of the kingdom."