Several countries members of OAS Joint Declaration on the situation in Bolivia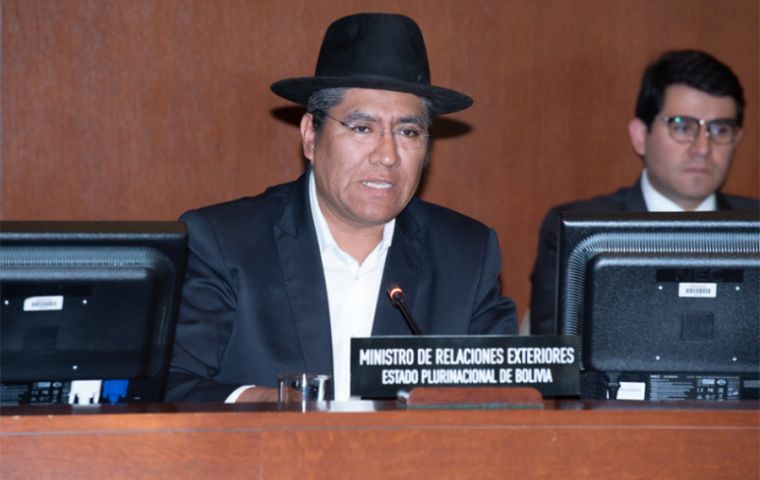 Following a presentation by Bolivian foreign minister Diego Pary to an extraordinary session of the Organization of American States' (OAS) permanent council in Washington, the following declaration was issued:
Taking into account the situation in Bolivia and the recent evolution of the electoral process in that country, the governments of Brazil, Argentina, Chile, Colombia, Costa Rica, the United States, Guatemala, Peru and Venezuela declare:
1. Support the professional and technical work carried out by the MOE-OEA team and the OAS team that continues to work to strengthen the electoral process in Bolivia.
2. Point out that the MOE established that every election must be governed by the principles of certainty, legality, transparency, fairness, independence and impartiality. In that sense, the MOE affirmed, in its preliminary report of October 23, 2019, that it was able to verify that several of these principles have been violated by different causes throughout the Bolivian electoral process.
3. Support the conduct of an analysis of electoral integrity by the OAS in Bolivia, as established in the Electoral Integrity Agreement, signed between the Government of the Plurinational State of Bolivia and the General Secretariat of the Organization of American States, and assuming in good faith the obligations contained therein;
4. To urge all the parties to the electoral contest and all the social actors to assume the result of the analysis of electoral integrity with binding character and implement their conclusions, according to the deadlines established by the Constitution and the Laws of the Plurinational State of Bolivia;
5. Urge the Bolivian government, political parties, electoral authorities and all social actors to collaborate fully with the OAS and to guarantee the security, transparency and credibility of the process;
6. Support the mechanisms for the preservation and defense of representative democracy in Bolivia, in compliance with the Inter-American Democratic Charter.
7. To call on the Government of Bolivia and all the participants in the electoral contest to respect and honor the democratic will of the Bolivian people and the cessation of violence.