"Welcome to the Falkland Islands" sign to be relocated for safety reasons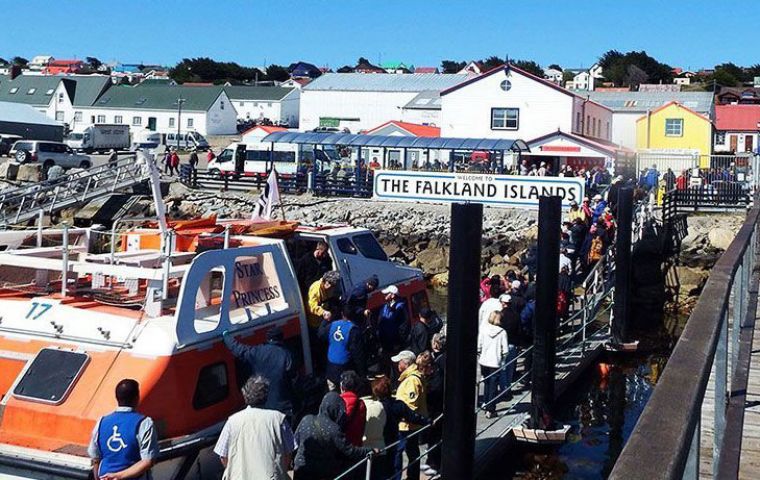 The Falklands' Planning and Building Committee has approved an application to move the iconic 'Welcome to the Falkland Islands' sign, despite the Planning Officer's recommendation that it be refused. Falkland Islands Tourist Board made the application, citing safety concerns over tourists stopping on the pontoon to take photographs of the sign. It will be moved to the public jetty, rotating through 90 degrees.
Presenting the proposal, Planning Officer Lee Kenebel told the committee that he felt the sign in its current position is "one of the defining characteristics of the town."
"I don't think you'll get the same impact," he said. "I think for years you'll hear 'where's the sign?'".
Falkland Islands Tourist Board Marketing Officer Rachael Crowie attended the meeting and was permitted to speak for three minutes. She said that moving the sign was a safety issue, as it was causing congestion on the pontoon, and there had even been instances of people falling into the water. Committee member and Chief Fire Officer Gardner Fiddes confirmed that this was the case.
Rachael Crowie also said that the new position of the sign meant it would still be visible on approach to the public jetty.
Responding, Lee Kenebel questioned whether this was rather a people management issue, and wondered whether it justified moving the sign.
MLA Mark Pollard chaired the committee meeting, with MLA Roger Spink acting as vice-chair. MLA Spink said that he didn't see a problem with moving the sign, and MLA Pollard agreed that he was "happy to see it moved."
Committee member Brian Summers disagreed, saying he felt the sign would be less visible in its new location. The committee voted to approve the application on the grounds of public safety.
After the meeting, Lee Kenebel told Penguin News that the application had not contained a reason for the proposal. "In this case removing the sign does not require planning permission but the re-sitting of it in a new location does. This is when planning control takes effect ... … I did indicate that the application details were limited to showing the new location of the sign. There was no additional information concerning safety or indeed the reason for the relocation."
Rachael Crowie told Penguin News "When a tourist wants to take a photo there's no stopping them." The new location will ease congestion, she said, and the new backdrop would include the church and still look good. (PN)