Chilean bishops appeal for calm and recall what happens when the breakdown of institutions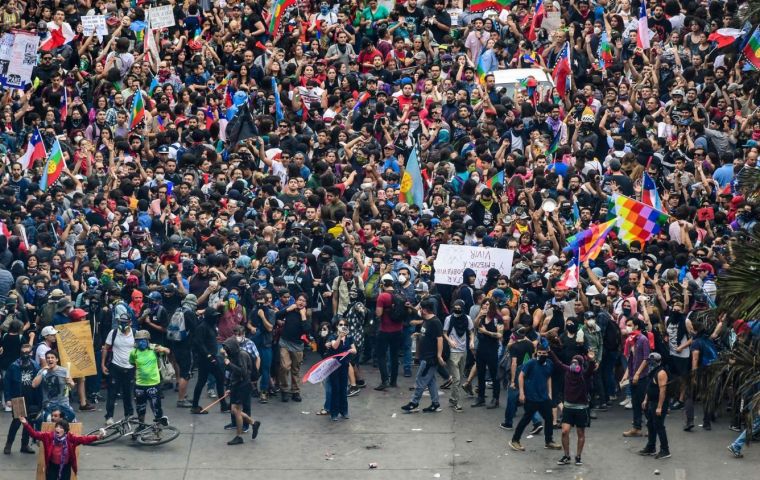 In an appeal to the politicians and people of Chile, the Bishops' Conference reminds them of what history teaches about the breakdown of institutions, urging all men and women of goodwill to put an end to the violence of every kind.
The Episcopal Conference of Chile addressed their statement to "all those holding political and social office, and all men and women of good will". Their message was clear: the violence of the past month must cease, regardless of where it comes from.
"The common good of our homeland – the land which ought to bring us together as one family – must be put before any personal or group ambitions" the bishops said, whilst recognizing the complex nature of this "hour of history".
The unrest started almost a month ago in the South American country, and was initially sparked by a raise in the price of metro tickets.
Since then Chile has seen demonstrations on a mass scale, with calls for the president to resign. At least 23 people have paid with their lives, with the number of injured reported at around 2,500.
Last week it was reported that a church in Santiago had been desecrated when crowds stormed it, removed statues and icons and set them on fire. Similar reports have come from other cities, where places of worship have been targeted in violent protests.
"Let's not forget", the bishops said, "that out history teaches us what serious damage the breakdown of institutions and the violation of human dignity inflicts on our fellow citizens, and on the soul of Chile".
With the gravity of the situation having dawned on the political leadership in the country, President Sebastián Piñera has invited to a reflection on a new constitution. In their statement, the bishops said that this dialogue "must integrate not only political leaders, but all men and women of good will, including social and labour organisations".
"The fruit of justice itself is peace" they said, citing the prophet Isaiah, as they urged all to walk the path towards a future with more justice, peace and dignity, without excluding anyone from human flourishing".