Falklands celebrates "touchdown for the Second Flight" and anticipates a new era of development for the Islands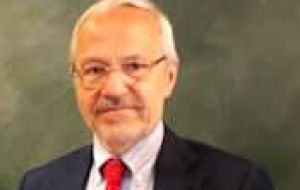 The elected government of the Falkland Islands announced that a new era has opened Islands with the inaugural Second Flight from São Paulo, Brazil, touching down this Wednesday afternoon at Mount Pleasant Airport.
Appealing to a pun (rugby/air transport) in its release, "touchdown for the second flight", FIG said the regular new link operated by LATAM Airlines Brazil will be a gateway to and from the Falklands, opening opportunities in trade and tourism, and improved travel choices for Falkland Islanders.
A delegation of Legislative Assembly members, business leaders and Falkland Islands Government officials have travelled on the inaugural flight on a Boeing 767-300.
Chair of the Legislative Assembly, MLA Roger Spink said they have spent a busy two days in São Paulo meeting with British trade officials and local business leaders - both identifying opportunities for trade and promoting the Falklands.
"We are excited by the future prospects – and the past few days have been about opening those new doors."
Barry Rowland, Chief Executive said it is the culmination of many years' work by many parties, with the idea of a second link dating back 15 years.
"It is important to mark the beginning of the flight. This is a proud moment for all those involved, and the Falkland Islands Government thanks all of those who have bought this to fruition."
Transportation portfolio holder MLA Barry Elsby said: "The realisation of this new flight has taken an immense amount of work over a number of years. It will complement the present Saturday flight (from Punta Arenas, Chile) and make it easier for both tourists and residents to come and go.
"We expect that it will take time to build momentum, as Second Flight becomes second nature."
Trade and industry portfolio holder MLA Mark Pollard met Brazilian tourism operators during the trip, alongside the Falkland Islands Tourist Board.
"There is strong interest in the Falklands now opening up as a new tourist destination connected by a global link down through São Paulo"
With four return trips a month, LATAM Airlines Brazil will operate the service between Mount Pleasant and São Paulo; three of the return flights will be non-stop and once a month there will be a stop in Cordoba, Argentina on the southbound and northbound service respectively.
This service will allow passengers to make onward connections to multiple destinations in South and North America, Europe, Africa and Asia.
The commercial benefits to the Falkland Islands include an estimated increase in economic activity of over £2m annually as well as growth in tourist, retail and hospitality sectors.
It represents the fulfilment of one of the key commitments of The Islands Plan 2018-2022 – the Legislative Assembly's blueprint for building a prosperous, productive and positive future for the nation – which is to strengthen the Falkland Islands' connections to the outside world.
All flights are scheduled to arrive and depart on Wednesdays. Tickets are available via www.latam.com or from local LATAM sales agents.