New IMF head of mission in Argentina, as Macri prepares to step down from office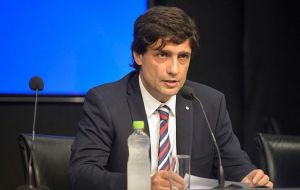 The International Monetary Fund has named as head of its mission in Argentina, Luis Cubeddu, 53, replacing Italian born Roberto Cardarelli. Cubeddu is knowledgeable in Argentina since he was in Buenos Aires between 2002/04, during a similar financial pre-default situation, as a member of the IMF representation.
The decision to reassign the Venezuela born economist to Argentina is part of the IMF routine rotation of its top staff, and takes advantage of the current political transition that has frozen all negotiations with Argentina, according to sources from the multilateral organization.
"To ensure a fluid transition and a continuity in the current IMF mission negotiations, Caldarelli will remain in Buenos Aires during the transition period until the new government headed by president elect Alberto Fernandez takes office.
Besides Cubeddu apparently has a good relation with Fernandez since the incoming head of state was cabinet chief at the beginning of ex president Nestor Kirchner in 2003.
In anticipation of current president Mauricio Macri's administration performance, Economy minister Hernan Lacunza revealed that Argentina's debt climbed US$ 74 billion during the four years of Macri, and 80% of the huge financial support extended to the country in this period by the IMF was used to pay debt commitments.
Under president Macri, 2015/19, public debt climbed 31%, compared to a 21% jump during the 2011/15, which means it increased from US$ 240 billion to US$ 314 billion.
"The current level of debt is the result of the previous budget deficit inertia", Lacunza explained, arguing that Argentina now faces more "a liquidity challenge than a solvency problem".
Argentina so far has received US$ 44bn of the IMF US$ 57bn loan, one of the highest in the organization's history, and according to Lacunza, 80% of that sum went to pay sovereign debt in dollars, 14% sovereign debt in local Pesos, 1% for various financial expenses and 4% helped increase Central bank international reserves.
"Results of economic activity were below expectations, we experienced three years of contraction, but we are leaving solid foundations for the incoming administration, that nevertheless must come up with a credible program to spur the economy and honor debt payments", explained Lacunza.
Argentina must also ensure international confidence if it is to rely on foreign investments and funds, since the country has a history of some eight defaults, and a crucial issue is to make public the names of the future economic and financial team, hopefully before 10 December when Fernandez takes office.
Lacunza revealed that the Argentine economy has been practically stagnant since 2011, and even in August 2019, economic activity is 3.4% below the 2015 level, when president Macri took office. And despite contraction, the Macri administration has invested heavily in infrastructure improving the road system, harbors, airports and some major projects such as to control recurrent flooding in prime farm land.
Regarding inflation, Lacunza admitted that "the target was not achieved" and this year will reach 55%, quite a distance from the 30% when the current administration took office in 2015. Likewise when it comes to jobs and unemployment, "it is not easy to establish a comparison since 2015 and previous years stats are not reliable". Anyhow current unemployment stands at 10.6% and the 1,25 jobs created in the last four years have been poor quality, self employed and mostly unregistered".