Falklands government and fishing companies contrast over ITQ fees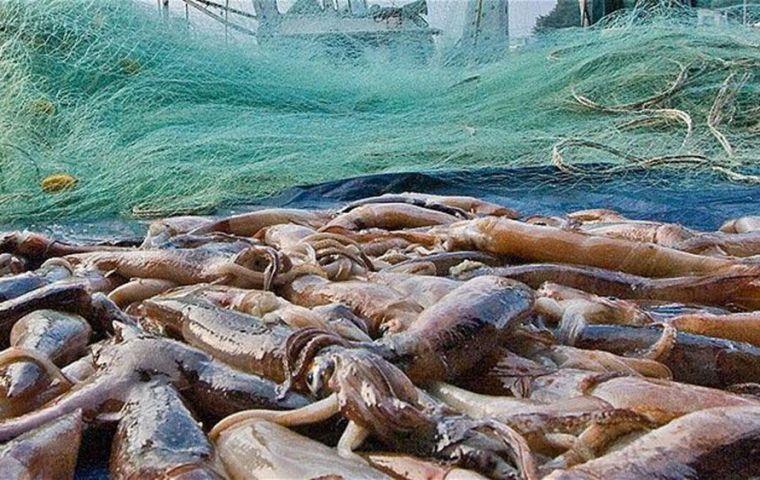 The announcement by the Falkland Islands Executive Council referred to ITQ fees, particularly toothfish and calamari, which would represent an annual £3.9 million additional income for government coffers, was contrasted by a release from the Falklands' seafood sector pointing out that "to increase quota access fees paid by local fishing companies by 50% will increase costs to the industry by £4 million per annum"
The Executive Council argues that the decision follows an extensive analysis and financial modeling of the fishery, including profitability, investments and taxes.
However the industry complains that Falklands Fishing companies already pay some of the highest fees in the world (taking 40% plus of profits) and that after ten years of insufficient returns to support vessel renewal, as soon as performance improved the companies involved began programs of vessel replacement. (A typical investment in a vessel is approximately twenty million euros).
"This decision will reduce the level of future returns and undermine investor confidence and will make raising capital all the more difficult for companies in the sector. It damages the Falkland Islands' reputation for fiscal stability which has been an important factor for the business community and cuts across the Island Plan provisions".
The two releases follow: ExCo under the heading of "Changes to ITQ fishery fees" says,
The Falkland Islands Executive Council has today (Wednesday) approved ITQ fees that will see a 50% rise in toothfish and calamari fishery fees, a 20% reduction in skatefish fees, and a 5% reduction in the restricted finfish fees
This year more extensive analysis and financial modelling of the fishery has been undertaken. This considered the profitability of the sector, planned investments and the contribution to corporation tax.
A range of options were set out in an Executive Council paper and the option chosen represents an estimated £3.9 Million per annum additional income to the FIG.
MLAs have decided that having rebased the fees this year, there will be no increase in calamari and tooth fish ITQ fees for the remainder of this Assembly.
Fisheries portfolio holder MLA Teslyn Barkman said that the sector had made it clear that companies needed to operate profitably, whilst investing in the growth of the fisheries sector including fleet renewal.
"We recognise that the profitability of the sector will need to be closely monitored. Fees are reviewed annually and can be reduced if necessary."
As background information, the release states that in October, Executive Council agreed the way forward on a review of the ITQ system including a process for renewing and extending current ITQ. That review has developed an Accord between the fishing industry and FIG on the future direction of the fisheries sector.
This recognises the fisheries sector as the major economic driver of the Falklands' economy and sets out a renewal process that provides for companies to renew their ITQ grants to 2046. This long-term commitment should provide stability and certainty for investment decisions and long term business planning.