Bolsonaro calls on Mercosur for a quick implementation of the trade agreement with the EU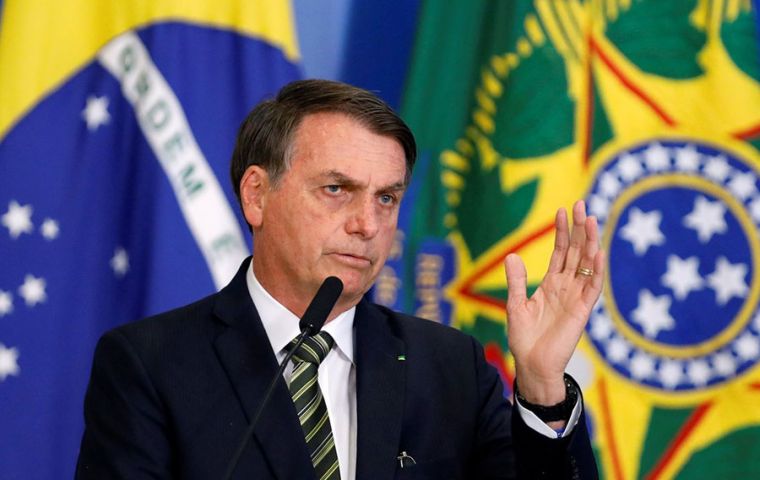 Brazil's President Jair Bolsonaro said on Thursday that Mercosur trade block needs to hurry up and implement agreements the group has negotiated.
Mercosur concluded a free trade accord with the European Union in June that took two decades to negotiate but still needs to be ratified by Brazil, Argentina, Uruguay and Paraguay as well as all the EU member states.
Resistance in Europe by some EU farming nations and criticism by Argentina's incoming president-elect Alberto Fernandez, who takes office on Tuesday, has cast doubt on the deal's future.
Speaking at a summit of its leaders, Bolsonaro said Mercosur had a key role to play in Brazil's efforts to open its economy to international trade and improve the business environment for foreign entrepreneurs.
He urged the group to lower its common external tariff and undertake reforms to make it more agile, a notable turnaround for a president who was critical of globalization and said Mercosur was not a priority when he took office in January.
Bolsonaro said his government was working toward a leaner, more efficient customs union and pledged to honor a 12 million-real (US$2.9 million) payment to Mercosur "despite financial problems."
With both Argentina and Uruguay represented by their outgoing administrations, there's no chance of another public clash between Bolsonaro and Fernandez, but there's also little possibility of any meaningful agreements, particularly referred to the lowering of the external tariff on which Bolsonaro is insisting.
An issue which was addressed by the different presidents was the social unrest in several South American countries, although none among Mercosur members, Argentina, Brazil, Paraguay or Uruguay.
Just five days before leaving office, Argentina's President Mauricio Macri condemned the disorder in Chile, describing it as "anarchic," saying such violence doesn't belong in a democratic country.
Chile's foreign minister, Teodoro Ribera, said his country has so far lost around US$ 7 billion as a result of the rioting and severely damaged the country's image.
"What's happening in Chile is something worth studying," he said. "It's necessary to study this situation because we always associate economic growth with stability."
Aside from concern about Chile, the unrest in Bolivia also prompted a terse exchange between Uruguay's outgoing vice president, Lucia Topolansky, and the new Bolivian foreign minister, Karen Longaric.
"This meeting takes place in a worrying context," the wife of Jose Mujica said. "It's not just one country undergoing a crisis, now there are various states shaken by institutional conflicts and even coups."
Longaric responded by saying that the elections organized under former President Evo Morales were "sadly manipulated" and fraudulent.
"How could it be a coup if the legislative assembly continued to work in an uninterrupted way?" she said. "In Bolivia there was no constitutional rupture. The government of President Jeanine Añez has as its goal the delivery of clean and transparent elections."