Chilean Air Force Hercules aircraft goes missing enroute to Antarctica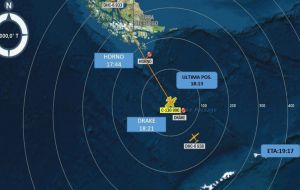 A Chilean Air Force (FACh) Hercules C130 aircraft took off at 4.55 p.m. local time Monday from the southern city of Punta Arenas and lost radio contact at 6.13 p.m. on its way to Antarctica, according to a press release from the defense authorities. The US built airplane was carrying 38 people on board, 17 crew members and 21 passengers.
FACh General Eduardo Mosqueira explained that the C130 Hercules had autonomy until 00:40h and from there on the only alternative would be to ditch and wait for rescue teams to arrive, adding that he was still optimistic about the likelihood of that scenario, although "the situation is quite complicated."
The Hercules aircraft left from the Chabunco Air Base in the city of Punta Arenas to the President Eduardo Frei Montalva Air Base in Antarctica.
Its mission was to carry out logistical support tasks, transferring personnel for the maintenance of the fuel supply pipeline of the base, in addition to conducting anticorrosive treatment of the national facilities in the area, said the press release.
Mosqueira reported that two F5 fighter jets took off "to make a survey in the area", which was added to a Bae aircraft. The authority added that to continue the search in the early hours of Tuesday, a C-295 Navy aircraft "that has a radar system to search the surface" would be added, in addition to "a P-111, two F-16s and an Uruguayan C-130."
Around 0.30 a.m., President Sebastián Piñera arrived at Cerrillos Air Base to monitor the search with Interior Minister Gonzalo Blumel. The head of Defense, Alberto Espina, was already at the venue since 9:00 pm, together with FACh commander General Arturo Merino Núñez.
According to Mosqueira the informed that, Hercules has "two rafts" and an ELT system that indicates its satellite position, but o.no avail up until the early hours of Tuesday at least. Mosqueira also added that the search was being conducted within a 60-mile radius from the last point of contact with the aircraft.