Argentine president anticipates a close relationship with Brazil, no matter rulers' personal differences
Wednesday, December 11th 2019 - 03:10 UTC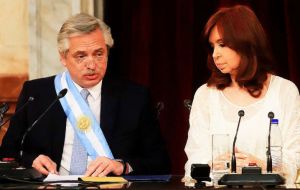 Argentine president Alberto Fernández announced support for Mercosur and anticipated a joint ambitious all embracing agenda with Brazil, based on shared fraternal history and which he underlined is far beyond any personal difference of current rulers.
In effect when Fernandez was elected, conservative Brazilian president Jair Bolsonaro called him a "bandit", belonging to the gang of Cristina Kirchner, "a bunch of red lefties who robbed and bankrupted Argentina", while the Argentine president elect demanded the liberation of ex president Lula da Silva, 'wrongly convicted', and also had no kind words for the former Brazilian captain and his homophobic, racist and military dictatorship praise comments.
However in his first speech as president to Congress, Fernandez said that in the current globalization, "we feel that Latin America is like our 'common hone', and pledged to strengthen Mercosur, regional integration, "in continuity with the process started in 1983 and boosted in 2003", with a special consideration for Brazil.
"With the Federal Republic of Brazil, in particular, we have to build an ambitious, innovative and creative agenda in the technologic, productive and strategic fields, which is supported by the historic brotherhood of our peoples and far beyond any personal differences between current rulers.
"We are going to honor it, we are going to advance together in the construction of a shared progress.
Further on Fernandez said that his government will continue to bet for a united Latin America, to insert ourselves with success and dignity in the world. "In 1974, General Juan Domingo Peron pointed out that at domestic level, no one can make it, in a country that doesn't make it. The same way, at continental level, no country can make it, in a continent that doesn't make it.
"We know we are living in a highly complicated world. With serious problems and economic misbalances. In several countries authoritarian movements have emerged, there have been coups d'état and at the same time in several countries citizens' demands against neo-liberalism and social inequality have prospered.
"In any scenario, Argentina will enthrone its principles of peace, defense of democracy, and the full entitlement of human rights. We shall defend the freedom and autonomy of the peoples of the world to decide on their destinies".
Last but not least it must be pointed out that because of the serious personal differences between Bolsonaro and Fernandez, the Brazilian president cancelled his participation in the taking office ceremony of his Argentine peer, (first time it ever happened), and also later turned back on the initiative to send a junior cabinet minister to Buenos Aires.
Only last week Bolsonaro advanced the second half annual Mercosur leaders summit to avoid having to host Alberto Fernandez in mid December.
But, the Brazilian cabinet is also made up of former top military officers, far more pragmatic, rational and decisive than the president, and thus it should not come as a surprise that finally the Brazilian vice president ex General Hamilton Mourao attended the swearing in ceremony of Alberto Fernandez and warmly embraced with the Argentine president.
It is not the first time the generals bend the Brazilian president's radical views. This happened when he announced the Brazilian embassy would move to Jerusalem, and the generals reminded Bolsonaro the Arab countries are one of the main markets for Brazilian food produce. Likewise while on campaign, Bolsonaro warned 'beware of the Chinese', they are not after Brazilian companies, "they are after the whole of Brazil". Generals again insisted that China was Brazil's main trading partner, so Bolsonaro had to back step on his comments, and finally last November visited China and had only kind words for Beijing.
Several months previous to the official presidential trip, vice president Mourao was in China, most probably to mend fences and tell Beijing it was all a misunderstanding.