Trump and Abdo meet in Washington to talk about the Mercosur-US trade deal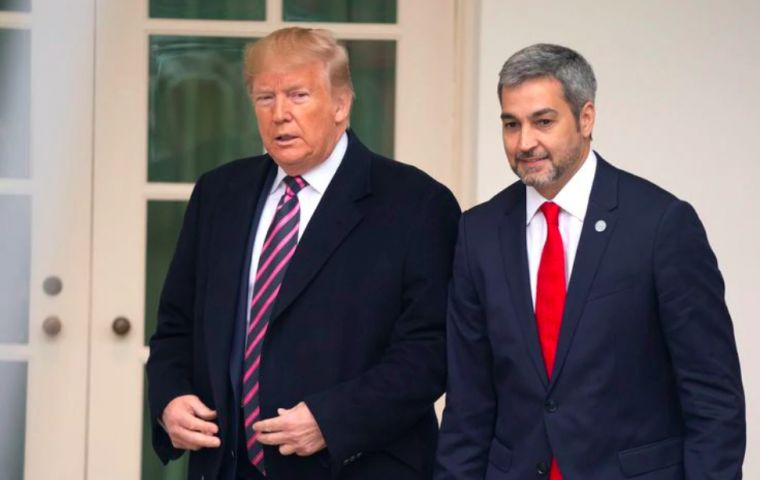 US President Donald Trump and his Paraguayan colleague Mario Abdo Benítez Friday discussed in Washington a free trade agreement with Mercosur as well as other items of mutual interest, including beef import/exports and the crisis affecting various countries in South America.
After the meeting, Abdo said he saw "good predisposition" on Trump's end to open the US consuming market to Paraguayan beef and to advance in other areas of reciprocal commerce.
"I told him that it [Paraguay's] is the best meat in the world," said Abdo in a video released through Twitter.
"We focused on strengthening our bilateral relationship, our bilateral trade, understanding that relationships are built and are durable and sustainable over time if there is mutual benefit," Abdo went on.
Both presidents also discussed cooperation towards strengthening Paraguay's security forces, intelligence and the use of technology.
They also talked about a free trade agreement between Mercosur and the United States, understanding that the negotiation process with the European Union has already been completed.
"We reaffirm the historical ties between Paraguay and the United States. We stand together to defend democracy in the region, bolster cooperation against transnational organized crime and boost bilateral trade and investment," said Abdo Benítez.
Abdo and Trump had already met last September at the United Nations General Assembly in New York.
"We are working a lot with Paraguay on terrorism, drugs, commerce, many different things," Trump said in a brief appearance before the press. He added that the US has "a great relationship with Paraguay."
Both leaders "agreed to give their support to the efforts of the interim president of Bolivia, Jeanine Áñez, to hold free and fair elections," according to a statement released in Washington by Paraguay's Foreign Ministry.
Asked about the situation in Venezuela, Trump neither confirmed nor denied discussing the issue with Abdo: "We are with the people of Venezuela one hundred percent."
Several Trump administration officials have visited Paraguay in recent months, including the President's daughter and adviser Ivanka Trump last September, and Secretary of State Mike Pompeo in April.