Seven-day state of emergency in Australia's New South Wales state ravaged by bushfires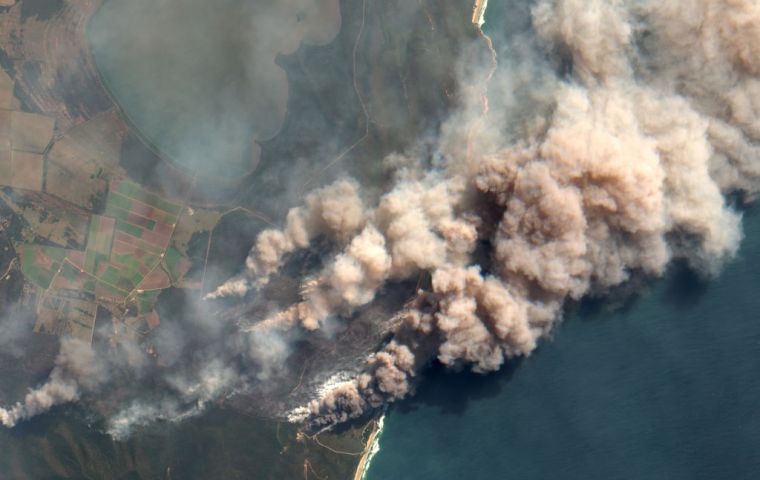 Australian authorities declared a seven-day state of emergency in New South Wales state on Thursday as a record heatwave fanned unprecedented bushfires raging across the region.
Some 100 fires have been burning for weeks in the state, with half of those uncontained, including a "mega-blaze" ringing Sydney, covering Australia's biggest city in a haze of toxic smoke.
NSW Premier Gladys Berejiklian said the state of emergency, the second declared in the state since an early, drought-fueled bushfire season began in September, was due to "catastrophic weather conditions".
The country experienced its hottest day on record on Tuesday, with the average nationwide temperatures reaching 40.9 degrees Celsius (105.6 degrees Fahrenheit), which is expected to be surpassed as an intensifying heat wave spreads across the east.
There are 2,000 firefighters battling the blazes with the support of US and Canadian teams, as well as Australia Defense Force personnel.
New South Wales Rural Fire Service commissioner Shane Fitzsimmons said five 100-person "strike teams" were on standby to deploy to the most dangerous fires, "given the enormity of some of these fire complexities and the severity of the forecast weather conditions that are expected to unfold throughout today".
"The worst of the fire weather conditions, the extreme fire danger ratings we are expecting today, are centered around the greater Sydney environment," he added.
The extreme weather is also causing major health concerns, with leading doctors this week labeling the smoke haze that has shrouded Sydney for weeks a "public health emergency"