"Fernandez will be received with full honors of head of state", Bolsonaro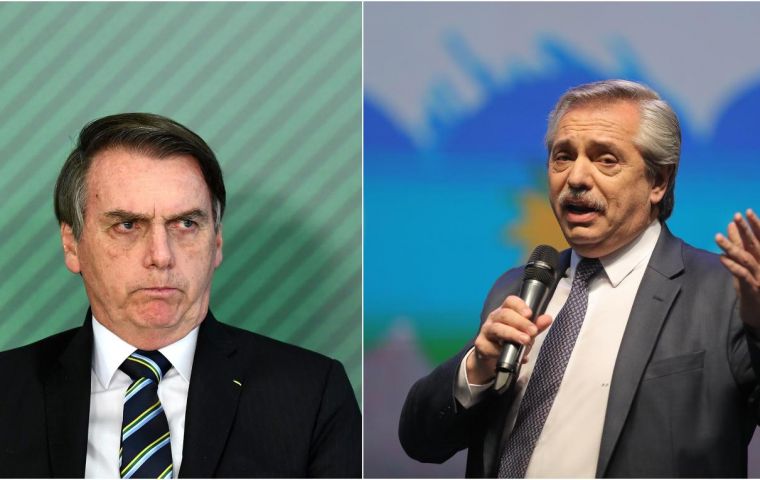 If Argentine president Alberto Fernandez visits Brazil, "he will be received with all the honors of head of State, which he deserves", according to his peer Jair Bolosonaro, which has been interpreted as an easing of tensions between both leaders following the initial stormy clashes.
"No visit to Brazil of Fernandez is scheduled in the near future but if he does come he will be received with full head of state honors", told reporters at the Alvorada Palace which is the presidential residence in Brasilia.
Brazil and Argentina have a strong trade in several areas, and hopefully the export taxes announced by Fernandez won't affect Brazil, Bolsonaro said.
"I mean, I hope that measures increasing levies on grain and wheat exports, which we buy from Argentina won't apply to us", said the Brazilian president and added that he expected both countries, "to work together to consolidate the trade agreement reached between Mercosur and the European Union"
Bolsonaro's comments in the event of a visit of Fernandez to Brazil were considered positive given the strains of the bilateral relation since the Brazilian leader openly questioned the victory of Fernandez/Fernandez in the October election. Bolsonaro at the time strongly supported the reelection of Mauricio Macri and when Fernandez won he commented that "Argentines have chosen wrongly".
This was later followed by criticisms with non polite words from Bolsonaro and his son Eduardo towards Fernandez and his son Estanislao.
However after threatening to send a very junior representative to the taking office ceremony of Fernandez on 10 December, it was finally Bolsonaro's vice-president, ex General Hamilton Mourao who turned up, and embraced cordially with the Argentine leader.
Later statements also fell in line with a more neutral position from the Bolsonaro administration which said the bilateral relation should be "pragmatic."