Ticket purchase in Argentina for flights to the Falklands will not be subject to the 30% tax
Wednesday, January 15th 2020 - 09:57 UTC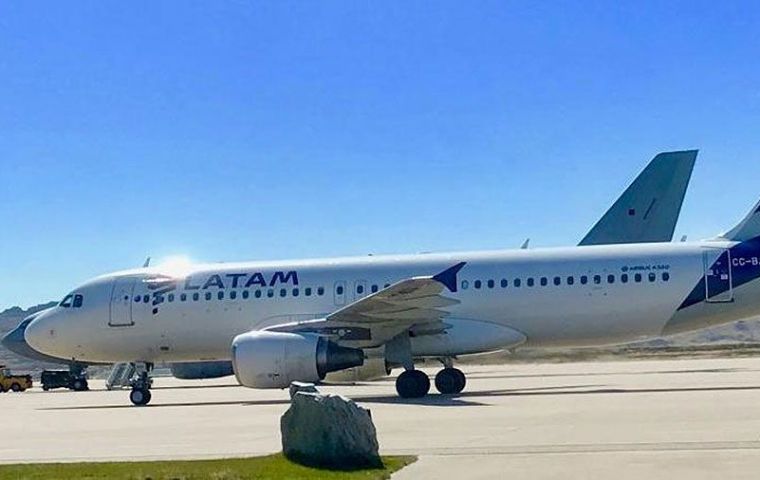 The purchase of tickets in Argentina to the Falklands, South Georgia and South Sandwich islands will not the subject to the 30% tax recently approved by the Argentine Congress and extensive to all overseas travel. The decree with the details is expected to be published in the Official Gazette later this week, according to the Argentine federal tax revenue office, AFIP.
The decision follows inquiries and complaints from Malvinas Veterans who questioned the fact airlines were pretending to charge the 30% surcharge on tickets particularly to the Falkland Islands.
The AFIP clarification ratifies the conditions created by emergency Law 27.542, which state the 30% levy does not apply to air, land or sea transport services, with destinations in the Falklands/Malvinas Islands, South Georgia and South Sandwich Islands.
Last week AFIP pointed out that the 30% levy to the purchase of foreign currency to acquire land, air or marine transport services overseas extends to all options. However the coming clarification ratifies the legitimate and imprescriptible rights of Argentina over the South Atlantic islands and surrounding maritime and insular spaces, since they are an integral part of the Argentine territory.
"The recovery of those territories, and full exercise of sovereignty, respecting the way of life of its inhabitants, and in compliance with international law in a standing and unrenounceable objective of the Argentine people", concludes the presentation of the Bill.