Bolsonaro invites a well known actress to become head of the ministry of Culture
Tuesday, January 21st 2020 - 07:55 UTC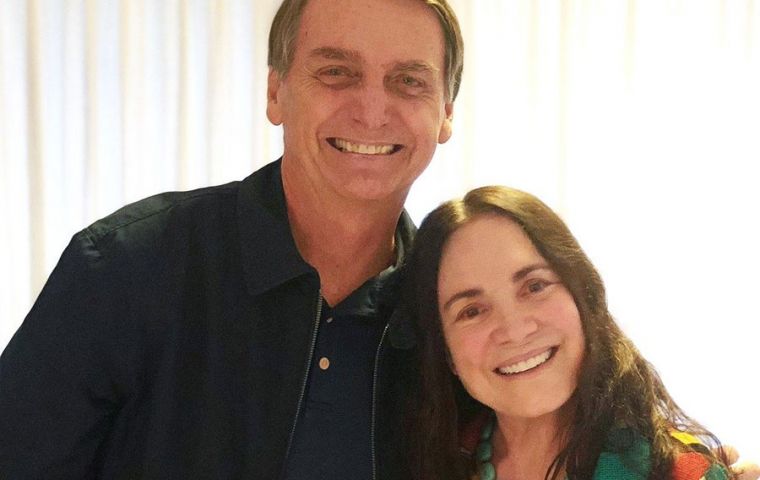 Brazilian soap opera actress Regina Duarte could become the next Minister of Culture. Although she has not given her full yes, she is expected on Wednesday in Brasilia to check on the job and her responsibilities. The former minister Roberto Alvim was sacked after including Nazi propaganda official Joseph Goebbels excerpts in an official speech.
"Following on productive talks with president Jair Bolsonaro, Regina Duarte will be traveling to Brasilia on Wednesday to get acquainted with the federal National Culture Secretariat" said an official release from the Brazilian presidency.
"We are in the stage of getting acquainted and becoming best friends", Regina Duarte was quoted by the media in Rio do Janeiro.
However the communiqués do not make clear if Ms Duarte did accept the job. The actress had been invited to join the Bolsonaro administration a year ago, but rejected the offer. Anyhow she is a strong supporter of the conservative president and has praised many of his policies.
"I'm not ready, I don't feel prepared for the job, I find that public service is something quite complicated, and even more the Culture Secretariat", the actress was quoted in a local radio. Apparently she has until next Monday to give an answer.
The friendship between Ms Duarte and candidate Bolsonaro dates back to 2018 during the electoral campaign. She visited the candidate at his home in Rio, and pictures of the meeting flooded the social networks.
When Bolsonaro was finally elected, the Minister of Citizenship Osmar Terra visited the actress in Sao Paulo for a meeting and to discuss culture policies of the incoming administration.