Cristina Fernandez again president, but will not move from her office in Congress
Tuesday, January 21st 2020 - 08:25 UTC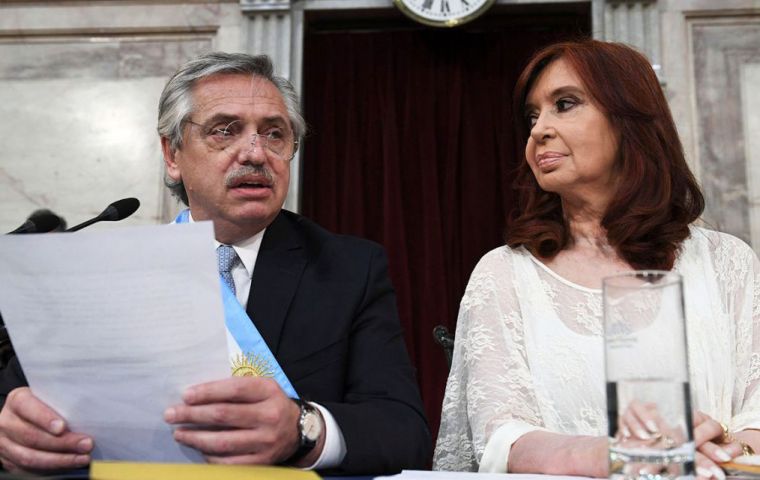 Vice president Cristina Fernandez de Kirchner is again president of Argentina, although on an interim basis, while the head of state Alberto Fernandez is off to Israel for a summit of world leaders to a homage to Holocaust victims.
According to the Argentine constitution the vice-president takes over the Executive in absence of the president, which will happen this Tuesday when Alberto Fernandez leaves on a commercial flight to Israel.
The Argentine media has reported Cristina Fernandez has no intention of moving to Government House, Casa Rosada while head of government, and will keep business as usual from her office in Congress.
Business in Casa Rosada will be addressed by cabinet chief Santiago Cafiero and Interior minister Eduardo Wado de Pedro.
The acting president only recently returned from Cuba where she visited her daughter Florencia a week ago.
Cristina Fernandez will be acting president until Saturday when Alberto Fernandez is scheduled to return. This means CFK is back in the Executive seat after an absence of 1.503 days, counting from 10 December 2015, when she stepped down and elected Mauricio Macri took office.
However Cristina Fernandez will again become acting president at the end of January when the president travels to the Vatican to meet with Pope Francis.
Alberto Fernandez is travelling to Israel with First Lady Fabiola Yanez, foreign minister Felipe Sola, Buenos Aires province governor Axel Kicillof and lawmaker Eduardo Valdés.
Among the leaders attending the ceremony are French president Emmanuel Macron, Russia's Vladimir Putin and US vice president Mike Pence.