Ex president Mujica calls Argentines "swindlers"; Buenos Aires media demand an apology
Tuesday, January 21st 2020 - 07:21 UTC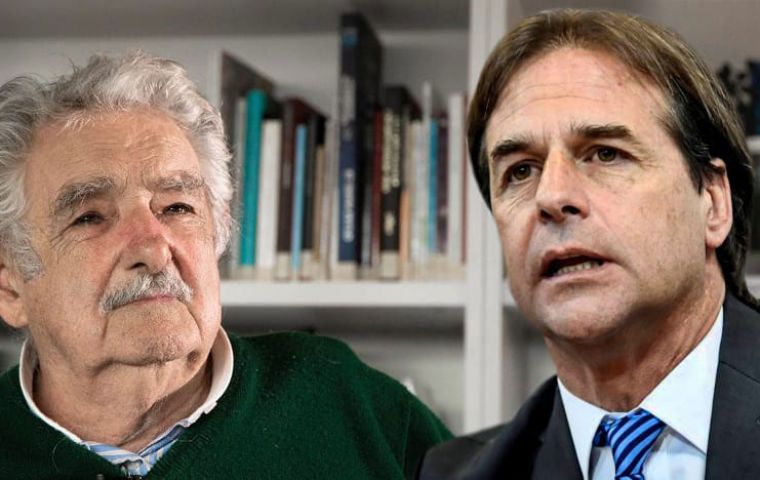 Uruguayan ex-president Jose Mujica is well known for his eclectic statements, expressed in the most coarse language, and in these austral summer days, with much sun and hard-drinking, was again at it, this time mocking the Argentines and his Kirchner friends which he openly supported in the recent election that meant the return of the Ks' populism.
In effect in reply to a proposal by Uruguayan president elect Luis Lacalle Pou (who takes office in March) and announced his intention of inviting 100.000 high income Argentines to move to Uruguay for which he would facilitate residence, citizenship and fiscal domain documents, Mujica countered saying that instead of attracting 100.000 Argentine swindlers (said in a more brazen term), Uruguay should try to convince its citizens who have some 24 billion dollars holdings overseas, to bring some of those funds back to help spur the local economy.
This triggered an immediate reply from Argentine media and personalities who recalled that when Mujica was elected president in 2010, one of his first actions was to invite the rich and famous from Argentina to invest in Uruguay, promising all sorts of privileges. Despite his double game, with and against Argentina, he was publicly humiliated by then president Cristina Kirchner on several occasions for his life style and his interpretation of economic development trying to ignore consumerism.
Before continuing it must be remembered that Uruguay, with its stronger institutions and greater political stability has historically been a refuge for the Argentines who distrust their political system, and particularly in the financial and banking sectors. The different Argentine governments would accuse Uruguay of being the regional station for laundering Argentine money and assets, so these invitations by both Lacalle Pou and Mujica are no surprise. In the financial sector of Montevideo, it was common to hear that the level of deposits in the banking system was a measure of the lack of confidence of the Argentines in their own system.
Nevertheless why should Mujica attack his Argentine allies calling them swindlers, a term more appropriate to his own allies in Venezuela and Cuba that have heavy debts with Uruguay pending. Although he is a powerbroker in Uruguayan politics, Mujica's leadership is eroding: the ruling coalition lost the last election to the multicolor alliance headed by Lacalle Pou, and second steps of budding leaders are questioning his policies and strategy. Insulting or mocking the Argentines is a resource to realign his groupings and regain the spot light since Argentine-Uruguay rivalry in sports, culture, academia is an undisputable fact of the neighboring countries.
The fact is that next May Uruguay will be holding municipal elections and the main prize is the city of Montevideo, where half of the Uruguayan population lives and has been under the ruling Broad Front coalition for almost three decades. It is an indispensable political base for any presidential project. But Mujica has been unable to control the process to name an only candidate of his liking. Rather the contrary has happened, at least three hopefuls have emerged, even when this does not mean the Broad Front could lose City Hall.
In Argentina the opposition is demanding that the Alberto Fernandez administration requests an apology from Mujica. But this is hard to expect, Alberto Fernandez visited Mujica at his farm in Montevideo a couple of times during the election campaign calling him the "Master", the honest president and a political inspiration to end poverty.
This despite the fact that the Buenos Aires media and members of the opposition recalled that during the administration of Mujica, 2010/15, some of the worst Argentine swindlers, real swindlers, took refuge in Uruguay, and one of them even built his own jetty and air strip, plus a fake Customs outpost, just a few miles across from Argentina and which it is believed was used to channel "K" funds skimmed from public works contracts.
Argentines also recall an incident sometime in 2002, when Uruguayan president Jorge Batlle, was under pressure from IMF Chilean advisors to follow on Argentina's steps and declare a default, given the run of Argentine depositors on the Uruguayan banking system. Batlle was caught by foreign journalists, with an open tape recorder when it was supposed to be off, telling his visitors "don't you dare compare Uruguay with Argentina; Uruguay has always honored its debts, and the Argentines, from A to Z are all crooks..."
The recording was aired and Batlle decided to fly to Buenos Aires and publicly apologize for his words. However opinion polls taken at the time, when the Argentine economy was melting and the country defaulted, showed that an overwhelmingly majority of Argentines coincided with the Uruguayan president statement.
End of the story is that president Batlle ignored advise from the IMF and appealed directly to president George Bush and the Federal Reserve for a bridge loan, which was immediately granted. In less than twelve months Uruguay was back on its feet, had returned the US$ 1.5 billion loan, while defaulted Argentina, eighteen years later is again threatening with a default and trying to climb out of the self inflicted fall into a black hole.