Falklands' oil company lays out plans for production: 85.000 bpd at peak output
Thursday, January 23rd 2020 - 19:30 UTC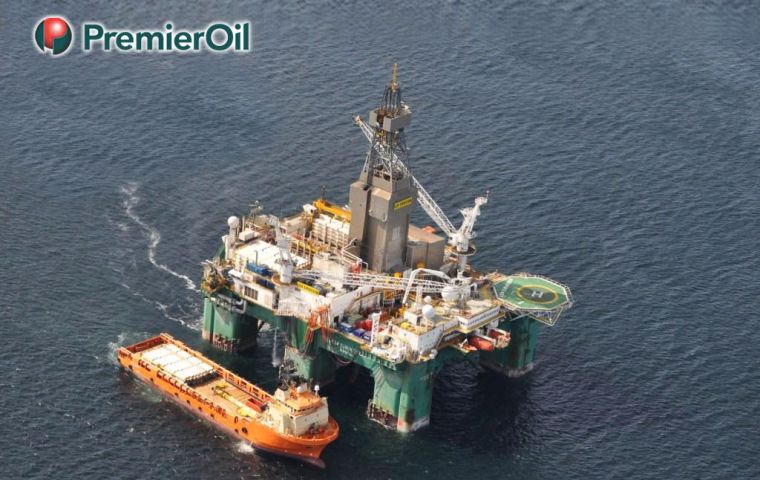 At peak oil production from the Falkland Islands offshore Sea Lion oil field, Premier Oil is hoping for 85,000 barrels of oil per day. Over 20 years they anticipate 255 million barrels of oil in a medium-case scenario.
The potential impact of the development of the Sea Lion oil sector was examined by Premier Oil on Monday in Stanley. They presented an updated Environmental Impact Statement (EIS) to members of the public, outlining their aspirations for the project and changes made to the original plans.
It was noted that there will no longer be a need for inshore transfer eliminating the Berkeley Sound Terminal. This was due to the choice of a larger Floating Production Storage and Offloading (FPSO) facility than originally planned.
Infrastructure that Stanley residents will see will comprise the TDF and Mud Plant, Drilling Base, Operations Base and Heliport facility with passenger reception and hangar at FIGAS. There will also be large transport vessels in Berkeley Sound.
In terms of socioeconomic impact, personnel onshore and in transit will, in stage one of the project, (the first 42 months) be 110 onshore and 100 in transit and then in the second part of the project (months 43 to 72) 110 onshore and 75 in transit followed by the third stage (year 6 to year 23.5) 40 onshore and 50 in transit.
It was noted that during this time there would be business opportunities locally and most accommodation would be in a new facility. Premier then led the audience through slides explaining the key findings of the EIS including the impact of light from the FPSO on bird life, underwater noise, discharges to sea, atmospheric emissions, waste, collisions with marine mammals, bio-security, nuisance/competition for resources and an oil spill strategy.
In relation to discharges at sea, these would include hydro-testing water, wellbore clean-up fluid, cooling water, subsea hydraulic fluids, food waste, drainage, and drilling muds.
Mitigations would comprise re-injection of produced water and a thermo-mechanical cuttings cleaning unit.
Relating to atmospheric emissions they referred to reduction of emissions in design. They outlined a gas disposal well, waste heat recovery, vapor recovery, flare gas recovery and third party audits.
Regarding waste Premier explained that there would be waste management controls, an incinerator at the base to minimize waste being shipped back to the UK.
To mitigate bio-security breaches it was explained there was a bio-security management plan, ballast water management, bio-fouling management, and hull inspections for high risk vessels. Premier also looked into competition for water and electricity in Stanley and disturbance to humans from light associated with Premier's activities.
During the discussion the oil company confirmed it would not be using the Sao Paulo or Santiago flight for personnel movement, but once again be installing a once a week flight direct to the UK.
A representative said they did not wish to "swamp" the flights, however might use the Latam flights at a later date if their personnel numbers reduced.(Penguin News)