Filmus reaffirms before C24, Argentina's legitimate rights over the Falklands
Friday, January 24th 2020 - 09:34 UTC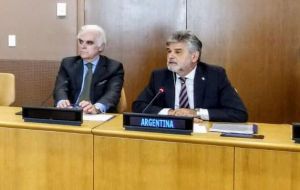 The Argentine foreign ministry reported that on Thursday it had reaffirmed before UN Decolonization Committee, C24, the country's 'legitimate rights' over the South Atlantic Islands and surrounding maritime spaces, and called on the United Kingdom to resume negotiations for a peaceful solution to the dispute.
The claim was done by Daniel Filmus, who is the Foreign ministry Secretary for Malvinas, Antarctica and South Atlantic affairs, who underlined that Argentina considers inadmissible UK's persistence in ignoring the mandate of the UN General Assembly and the C24 to resume dialogue on the matter. Given this situation Argentina considers vital the good offices mission entrusted to the UN Secretary General, resolution 37/9 of 1982, for the resumption of negotiations with the UK as a means of putting an end to the dispute.
The release adds that during his trip to New York, Filmus reiterated Argentina's support for C24 and its efforts, emphasizing that the Malvinas Question is a State policy which transcends all Argentine political parties. Likewise Filmus described the position of president Alberto Fernandez and foreign minister Felipe Solá as to how advance to achieve a bilateral solution to the ongoing sovereignty dispute.
Accordingly the C24 core table acknowledged the sovereignty dispute between Argentina and the UK over the Malvinas, in line with what was decided by the UN General Assembly in resolution 2065 (XX). The resolution invites both sides to engage in negotiations to find a peaceful solution to the controversy and report the result of those discussions to the Special Decolonization Committee or the General Assembly.
In effect since it was the first visit of a high level official from the government of president Alberto Fernandez to the UN seat, the presence of Filmus is a clear demonstration of the priority given by the new government to the defense of Argentine sovereignty rights over the Malvinas, South Georgia, South Sandwich Islands and adjoining maritime spaces.
On Thursday afternoon Filmus was scheduled to hold a meeting at the UN, with Maria Luiza Ribeiro Votti, cabinet chief of UN Secretary General Antonio Guterres, to whom he would underline the interest of Argentina in the good offices mission entrusted to the Secretary General by the General Assembly, with the purpose of making Argentina and the UK resume sovereignty negotiations regarding the Malvinas Question.