Falklands' January storm causes massive loss of Rockhopper penguin chicks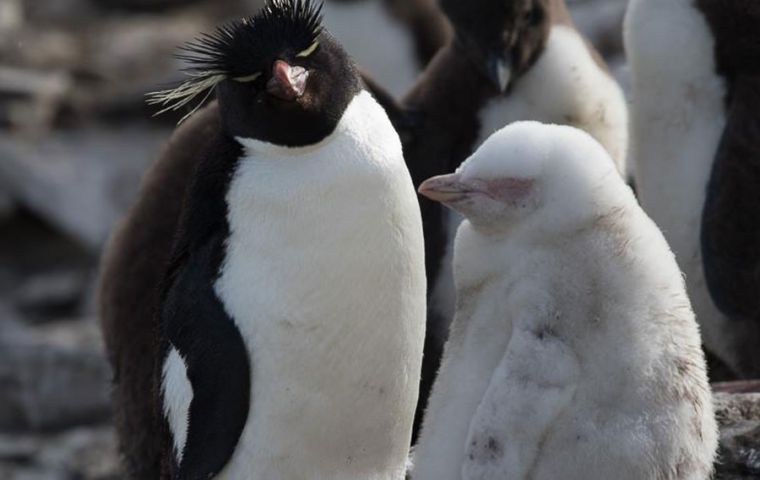 84% of Rockhopper chicks on Sea Lion Island have died as a result of a storm that hit the Falkland Islands on January 14/15. Strong easterly winds on the island, which lies southeast of East Falklands, launched sea spray on to the colony for more than 48 hours, to deadly effect, said owner Mickey Reeves.
Mr Reeves told Penguin News: "The chicks are now too big to be protected by a parent -they can't provide any shelter. The chicks are one month from leaving the colony and are losing their feathers right now."
He said the colony only had 214 chicks to begin with and "they are not doing so great right now. The numbers go up and down but over the longer term they are actually on a slow decline."
The colony is at the south west end of the island near the HMS Sheffield Memorial. Rockhopper penguins are among the smaller species of penguin. After reaching full growth, they are about 20 inches in height.
Sea Lion Island has an attractive lodge and is a popular destination for both Falklands residents and visitors to the Falkland Islands.
Sea Lion Island is known for its marine mammals, including breeding colonies of southern sea lions and southern elephant seals, for which the other islands in the group are haul-out sites. Killer whales occur offshore.
It is the largest of the Sea Lion Island Group of the Falkland Islands. It is 9 km² in area. and lies 14 km southeast of Lafonia.
It was designated a Ramsar site on 24 September 2001, and as an Important Bird Area. In 2017 the island was designated as a National Nature Reserve. (PN).