FIFA names ex president Macri chairman of FIFA Foundation; barrage of criticisms from Argentina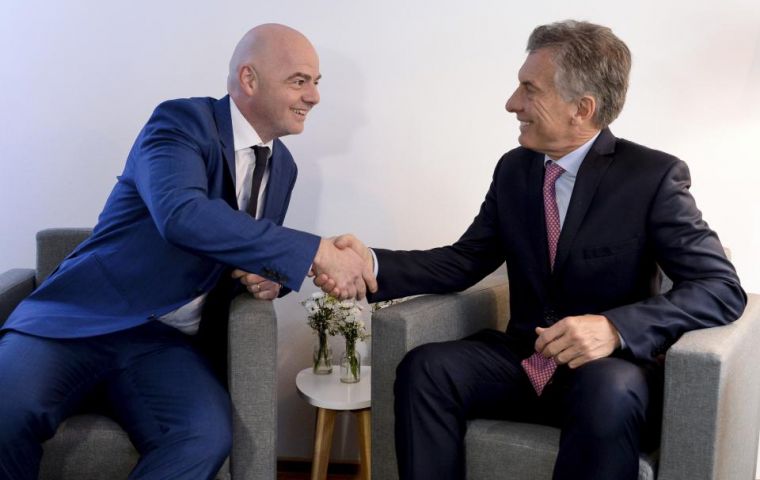 Former Argentine president Mauricio Macri has been appointed executive chairman of the FIFA Foundation, the organization founded by world football's governing body in 2018 to promote social change. But his nomination was received with a raft of criticisms by Argentine clubs and associations.
"Mauricio is the perfect fit to lead this project, which aims to harness football to benefit society," FIFA President Gianni Infantino said of the former Boca Juniors president.
"Through his experience as the leader of a major nation, he knows all about the central role that education will play in the future of our societies, and having presided over one of the world's most successful football clubs, he is well aware of the unique power of our sport and the unrivalled passion that it inspires."
Macri, who lost his bid for a second four-year term as president when he was defeated in an October 2019 election, will work alongside CEO Youri Djorkaeff and focus on education programs. FIFA Foundation has a budget of several hundred million dollars.
But from Buenos Aires there was no end to the negative comments about the nomination of conservative ex president Macri. "Sad day and news for all those of us who love football", said San Lorenzo club president Marcelo Tinelli.
Rodolfo D'Onofrio who heads River Plate on the two most popular teams in Argentina and which has conquered several world team cups also blasted the nomination, "highly regretful naming the former president who left Argentina with an almost unmanageable foreign debt and over 50% of poverty..."
"Politicians must be committed to politics and football managers to the clubs, such as we do", argued Jorge Amor Ameal, president of Boca Juniors the other great Argentine team.
The Argentine Football Association complained that as member of FIFA they were never consulted, which causes a double surprise, the non consultation and also the name which is contrary to AFA and thus "we must state his nomination as inappropriate"