Argentine president meets Pope Francis, and later Italian premier and president
Friday, January 31st 2020 - 10:59 UTC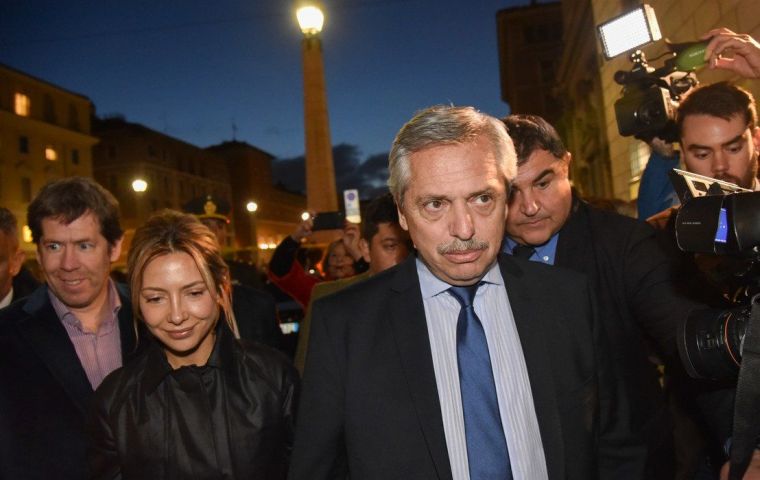 Argentine President Alberto Fernandez is in Italy, the first leg of his tour of Europe, which begins Friday with an official visit to Pope Francis, and Italian leadership, after which he will concentrate on trying to renegotiate the country's burdensome national debt.
"We're going to the European countries, as well as to visit his Holiness, to visit Western leaders," said Foreign Minister Felipe Sola. "Because we're close, because we want to know what they think of our country and because Argentina is in the midst of a complex negotiation, essential for our future, and they all have a seat at the IMF."
The main debt Fernandez wants to renegotiate includes a US$ 44 billion borrowed from the International Monetary Fund over the last 18 months, which if successful opens the door for negotiations with private sovereign bond holders..
Argentina's external debt stands at US$ 335 billion, which amounts to over 90% of GDP.
On Friday morning Fernandez's will be in the Vatican to meet his compatriot Pope Francis for an estimated 45 minutes. "He's a moral leader in the world. We thank him very much (for the meeting), he's a model of behavior," said Fernandez.
On arrival at Rome on Thursday Fernandez visited the UN World Food Program chief, David Beasly who congratulated the president for the implementation of his program to combat hunger in Argentina, ArgentinaContraElHambre.
"Thank you, Mr David Beasley for the reception and support for our plan ArgentinaContraElHambre. Ending this situation, suffered by millions in the world is a moral imperative and must be a priority for all of us" tweeted Fernandez following the meeting.
This Friday following the meeting with Pope Francis, the Argentine president will hold a brief encounter with Pietro Parolin, Secretary of State of the Holy See. Later in the afternoon Fernandez is scheduled to meet Italian prime minister, Giuseppe Conte and later Italian president Sergio Mattarella at the Quirinal Palace.
From Rome the Argentine president has appointments with German Chancellor Angela Merkel, King Philip IV of Spain and President Pedro Sanchez, and France's President Emmanuel Macron as his tour takes him from Berlin to Paris via Madrid.
"France is an important investor in Argentina. French companies are starting to take an interest in lithium" deposits in the north of the country, said Fernandez.
Fernandez's European tour comes after his first official presidential trip last week when he attended the 75th anniversary Holocaust commemorations in Israel, where he met Prime Minister Benjamin Netanyahu.
The main aim for his European tour, though, is "to improve Argentina's position in the debt renegotiation," political analyst Rosendo Fraga said.
"We don't want to be outside the world," Fernandez told C5N television station. "We're a country that needs the world's help and that's what we'll tell the world's leaders."