Gibraltar Marks EU Departure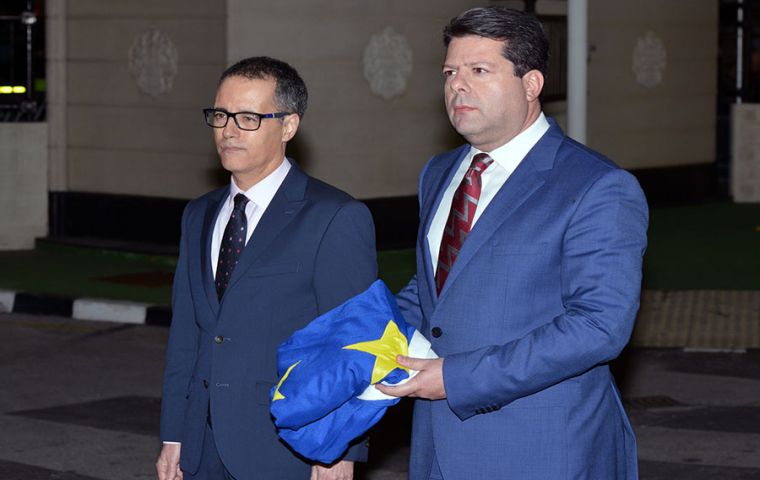 Gibraltar originally joined the EU under the British Treaty of Accession in 1972. On the evening of Friday 31st January 2020 at midnight Central European Time the departure from the European Union at the appointed time the UK formally ceased being a member state.
There was a short and solemn ceremony held adjacent to the land frontier at the northern end of Gibraltar located just a few metres from what is now the border with the EU.
The focus of the ceremony was the three flagpoles. In an act of respect and affection, the flag of the European Union was lowered to "Ode for Joy" taken from Beethoven's ninth symphony which has been adopted as the EU anthem. It was replaced by the flag of the Commonwealth raised to the tune of the National Anthem, "God Save The Queen".
The Chief Minister Fabian Picardo received the EU flag, and the Deputy Chief Minister, Dr Joseph Garcia, who is the Minister for relations with Europe and the Commonwealth, handed over the Commonwealth flag.
There was a small crowd of Gibraltarians in attendance who waved Gibraltar flags and the British flag, although due to limited space people had been requested to watch the event via the live television coverage from GBC. The ceremony was attended by His Excellency the Governor Lt General Edward Davis, the Speaker of the Gibraltar Parliament Melvyn Farrell and the Leader of the Opposition Keith Azopardi.
The music was provided by the Gibraltar Band and Drums Association.
The Deputy Chief Minister Dr Joseph Garcia said: "This is the end of an era. There are many whose memory only stretches back to the time when UK and Gibraltar were both in the EU. However, we are determined to make a success of our departure and to overcome any challenge that may come our way as we have done throughout our long and turbulent history. It is right and proper that we should intensify our relationship with the Commonwealth and the raising of this flag at all Government sites and offices will send a powerful message."
The Chief Minister Fabian Picardo said: "In the 2016 referendum, the people of Gibraltar voted 96% to remain in the European Union. The Government has therefore chosen to mark our departure from the EU in a way which is appropriate and relevant.
By Jim Watt - Gibraltar