Fernandez in Paris, the last leg of the European tour after support for its debt restructuring strategy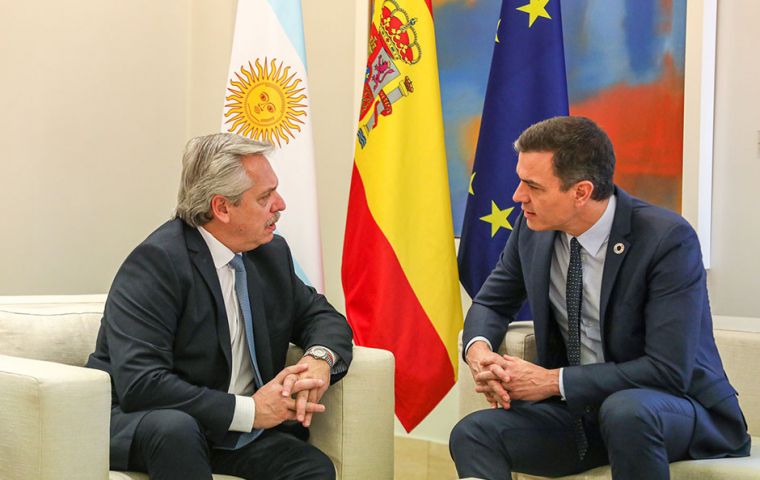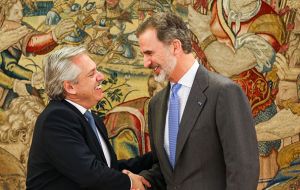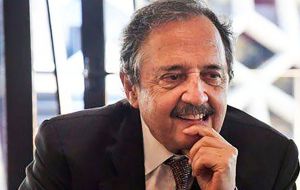 Argentine president Alberto Fernandez and his delegation are in Paris preparing for a full agenda on Wednesday which includes a working breakfast with French business leaders, a private meeting with his peer Emmanuel Macron and lunch at the Elysee Palace, and finally a conference at the prestigious French Political Science School.
Fernandez arrived in Paris late Tuesday after spending the day in Madrid, where he met president Pedro Sánchez, was received by King Philip VI, and most important was promised Spain's support for Argentina's strategy to reschedule its daunting foreign debt, both with the IMF and with private sovereign bondholders.
In a brief communiqué the two leaders promised to further boost bilateral relations, "now in the hands of two progressive governments". Sanchez also emphasized Spain's solidarity so that "Argentina can overcome the very difficult social and economic situation it is facing".
Spain has a very special relation with Argentina, it is the second largest investor with over 300 companies operating in the country, it is the third destination of Spanish exports to Latin America and is host to the largest Spanish overseas community with over half a million living in Argentina.
Fernandez also informed his peer Sanchez that the next ambassador in Madrid will be lawmaker Ricardo Alsonsín, son of the former Argentine president, Ricardo Alfonsín, and with deep roots in Spain.
Spain was the fourth leg of the Argentine delegation tour of European states in search of political support for its debt strategy, in the Vatican with Pope Francis, in Italy with prime minister Giuseppe Conte, Germany, Chancellor Angela Merkel, and now France. With the IMF only, the debt amounts to US$ 44 billion, of a US$ 57 billion granted to his predecessor, Mauricio Macri.
Argentina hopes that following an understanding and overcoming the IMF hurdle, discussions with private bondholders should be more fluid. The Fernandez administration has repeatedly said it wants to honor its debt, but needs time to have the depressed economy running again.
Following the interview at the Moncloa presidential palace, Fernandez was received by the Spanish King in the Zarzuela Palace, who was waiting with foreign minister Arancha González Laya.
The Spanish government underlined that the two countries face common challenges such as climate change, gender equality and defense of multilateralism, while Fernandez again reaffirmed the unwavering bond with Spain.
This Wednesday in Paris, as in the Vatican, Rome, Berlin and Madrid, president Fernandez will be wanting French commitment to Argentina's debt rescheduling strategy, since France is the second country with largest political weight in the IMF board.
However the agenda will include other issues such as compensation for French companies nationalized in Argentina, and the Mercosur/EU accord. Both France and Argentina have their doubts about the extent and timing of its implementation, despite the enthusiasm of other members from the EU and Mercosur.
Apparently there will be no media conference, since the French president is facing a very strong social and political challenge from the Yellow Vests and unions' rejection of his pensions' scheme, besides coming municipal elections.
Fernandez will later be meeting with a grouping of Argentine Citizens in France, specially founded in 2015 to combat "Neoliberalism in Argentina".
The Argentine president is scheduled to hold a private interview at the Latin American House in Paris with political scientists Alain Rouquié , an expert in Argentine political affairs, and whose latest book, referred to dictatorships and Juan Doming Perón has been praised by the French and Argentine political systems.
Finally a conference at the Paris Political Sciences Institute, on Latin America and Europe relations from and Argentine perspective.
On Thursday Fernandez is scheduled to meet with mining companies and the Argentine foreign minister Felipe Solá with his peer Jean-Ives Le Drian. Meantime Justice minister Marcela Losardo will interview French human rights groups.