"Falklands much closer to Brazil after the second flight", UK ambassador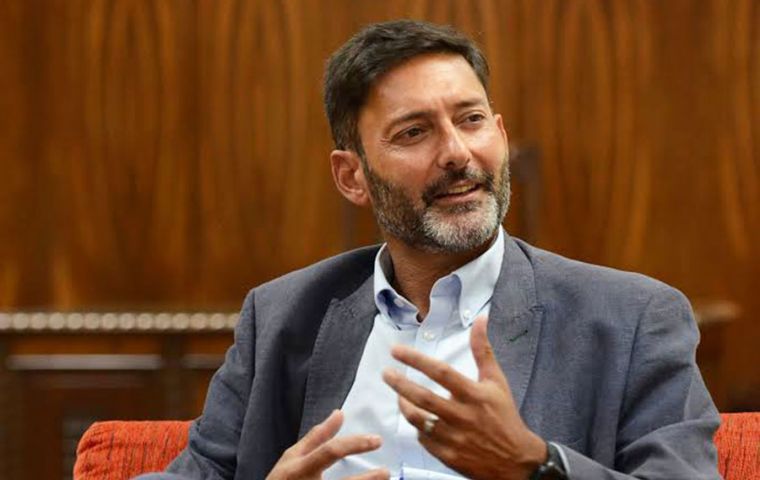 The British ambassador to Brazil, Vijay Rangarajan, this week said the second flight will bring the Falkland Islands closer to Brazil, describing it as a potential engine to help drive links between the two countries.
Speaking to the press during a four-day visit to the Falklands, Mr Rangarajan, said that his visit had included discussions with MLAs on the opportunities that the second flight opens up and "how we can make that second flight an engine of links, prosperity, people, contacts, tourism, trade, investment...All of that. Because transport links really help. Suddenly the Falklands are much closer to Brazil."
Mr Rangarajan nevertheless emphasized that future opportunities and priorities will be driven by MLAs and the business community, with the UK Government in Brazil supporting those opportunities.
Mr Rangarajan spoke positively of meetings held over the course of his visit to the Islands: "I had a really great series of meetings with the Chamber of Commerce, representatives of the fishing industry, all sorts of groups here. It has been fantastic.
"Lots of ideas have come out. There's some really interesting ones on tourism. How are you going to brand yourself? How are you going attract the right people? Who do you want to have? And then we can help do that, we've got a fantastic Visit Britain team in São Paulo who have done exactly these sorts of campaigns across Brazil. Very targeted and but very successful. Similarly on trade, we can help you build that."
Mr Rangarajan also spoke of the potential of scientific links, "there's some brilliant science links. The science in the South Atlantic and the science research is really powerful ... [Britain and Brazil] have a giant science relationship,
"I think there's a lot that can be done here. Everyone is interested in oceans, for climate change reasons, for fisheries reasons, for every possible reason, so I really want to try and establish some more links there."
Climate change action may also provide a means to establish links, Mr Rangarajan said, and spoke of the potential of the United Nations Climate Change Conference in Glasgow later this year, or COP26.
"It's going to be quite crucial to show what has been done really well around the world and then increase ambition. Talking to MLAs, talking to Leona, and talking to other people, you've got such an incredible story to tell on environmental issues, everything from fisheries to these amazing Islands to wind power... You can tell that story. And a lot of that is going to happen at COP26, there's going to be a lot of 'look, you can do it'.
"It has been really fascinating to see the use of renewables in so many farms out in Camp; they seem to be 100% renewables, and there's an incredible story. And it also has applicability worldwide. Brazil too has these very isolated small communities in many areas, not just around the Amazonia, but a lot of parts of the country. Creating and transferring all this best practice and sharing it is an incredibly powerful thing to do."
Open for trade
Asked whether Brazil would prove too protectionist a market for the Falklands to penetrate, Mr Rangarajan said that while traditionally Brazil has been a closed market, the timing may prove advantageous:
"The new Brazilian Government, elected in 2018, is fundamentally changing Brazil's trade policy. It's a really serious shift from the past. Brazil has traditionally had some of the highest tariff barriers and a tremendous wealth of non-tariff barriers, which have made it quite a closed market ... But [the Brazilian Government] want to open up Brazil."
Mr Rangarajan also noted that Brazil is in the process of joining the Organization for Economic Development and Co-operation (OECD), which will see it adopt worldwide OECD rules on matters such as taxation, environment and market regulation.
Nevertheless, Mr Rangarajan conceded that "it's still not easy," but emphasized the UK Government's presence in Brazil as a source of help for the Falklands, much as it helps other British firms to enter the market. (Penguin News)