Bolsonaro-Alberto Fernandez summit and "cordial embrace" in Montevideo next March first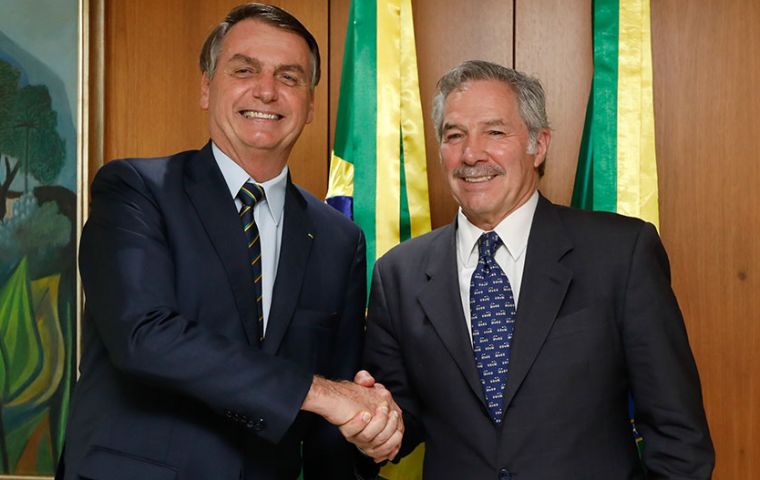 Brazilian president Jair Bolsonaro has proposed a meeting with his Argentine peer Alberto Fernandez on March first in Montevideo when Uruguayan president-elect Luis Lacalle Pou takes office. The information was announced by Argentine foreign minister Felipe Solá, after meeting president Bolsonaro for fifty minutes at his office in Brasilia.
Solá who is visiting Brasilia and met first with Brazilian foreign minister Ernesto Araújo said he talked extensively with Bolsonaro about Argentina's need to reach an agreement with the IMF regarding the country's foreign debt. Mercosur and possible accords of its members with third countries was also on the table.
The Argentine minister also mentioned that Bolsonaro sent a strong embrace greeting to president Fernandez, in what was interpreted as a clear signal that three months of non polite exchanges could be over.
The meeting took place on Wednesday afternoon at the Planalto Palace and the Argentine delegation also included appointed ambassador in Brasilia, Daniel Scioli, and Gustavo Beliz, Argentine Strategic Affairs Secretary.
Previously during the morning Solá met with his peer Ernesto Araújo at the Itamaraty Palace. Here the Argentine mission also included International trade chief Jorge Neme, Mercosur Office deputy head, Marilita Squeff, deputy foreign minister Pablo Tettamanti and foreign ministry cabinet chief Guillermo Chavez.
Previously during the morning Solá met with his peer Ernesto Araújo at the Itamaraty Palace, making it the first official visit of a president Fernandez administration mission to Bolsonaro's Brasilia.
Appointed ambassador Scioli twitted that the delegation had a "very productive and cordial meeting between foreign minister Ernesto Araújo and Felipe Solá". Argentina is Brazil's third trade partner only behind China and US. Likewise for Argentina, Brazil is the main partner, mainly with manufactured goods.
Actually the incoming Uruguayan foreign ministry had been working on a possible meeting of the presidents of Argentina and Brazil, Uruguay's powerful neighbors. The new administration of president elect Lacalle Pou announced that Venezuela, Cuba and Nicaragua have not been invited to the March first inauguration ceremony in Montevideo.