Fernandez/Bolsonaro summit in Montevideo in doubt, but both sides willing to meet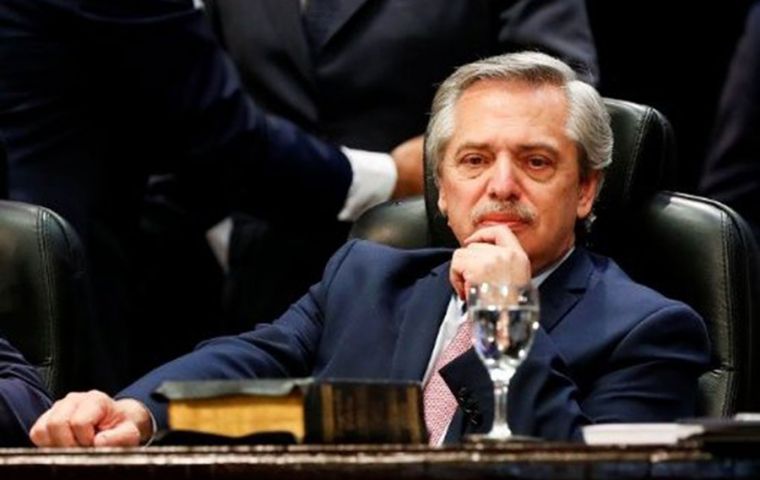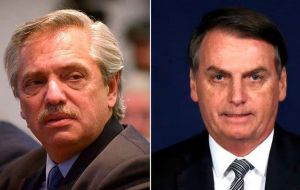 Argentine president Alberto Fernández said he was not sure to attend the inauguration of Uruguayan president Luis Lacalle Pou, next March first, when he was expected to meet his Brazilian peer Jair Bolsonaro. Anyhow Fernandez insisted he was most willing to have an interview with Bolsonaro whenever possible.
"I don't know if I can be in Montevideo on that day because the Argentine congress opens its ordinary sessions, and I must address the Legislative", Fernandez told a Buenos Aires radio. "But if I can't make it that day, I'm going to propose traveling on another day so we can meet", he added.
A possible meeting of the Argentine and Brazilian presidents has created great expectations as a signal of appeasement between the two countries, since center left Fernandez was elected last October replacing conservative Mauricio Macri, a close friend of Bolsonaro.
On Wednesday Bolsonaro proposed to the Argentine foreign minister Felipe Solá, who was visiting Brazil, a bilateral meeting with Fernandez in Montevideo, on the sidelines of the taking office ceremony of Uruguayan president Lacalle Pou next March first.
"I'm very much interested in talking with Fernandez":, Bolsonaro reiterated on Thursday, who said he was prepared to delay his return from Montevideo as much as possible, "so I can talk with as many heads of state as possible".
Bolsonaro who is ideologically extremely conservative and is implementing a liberal economic agenda, last year openly supported Macri during the Argentine presidential election, which finally enthroned Alberto Fernandez.
Most critical of vice-president Cristina Fernandez, Bolsonaro nevertheless has lately been more positive towards its neighbor, "in Brazil we want a strong prosperous Argentina, certainly not a Bolivarian Argentina, and we are willing to help".
The Brazilian leader is also planning to meet his ideological peer Donald Trump some time later this year.
When Alberto Fernandez took office last 10 December, Uruguay's president elect Lacalle Pou, and the outgoing president Tabaré Vazquez were present in Buenos Aires, as was Cuban leader Miguel Díaz Canel and Paraguay's Mario Abdo Benítez. However Bolsonaro did not attend and was represented by his vice-president.
Argentina is Brazil's third trade partner, but for Argentina, Brazil is number one.
Lacalle Pou has not invited to his inauguration ceremony three presidents, Nicolas Maduro from Venezuela, Daniel Ortega, Nicaragua and Diaz Canel from Cuba, since "clearly they are not full democracies".