Elected members of Uruguay's new Legislative branch take the oath of office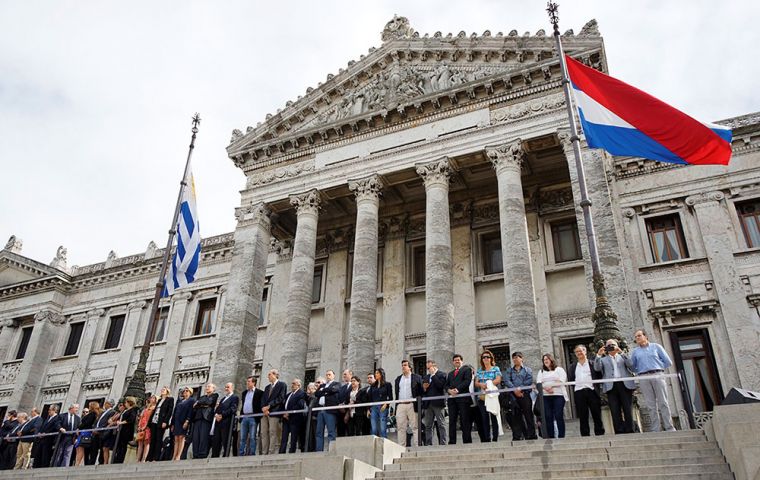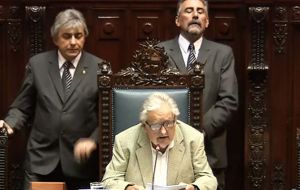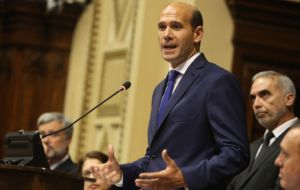 Uruguay's new Senators and Deputies which emerged from the general election results of last October were sworn in on Saturday during a ceremony held at the Legislative Palace. The ceremony not only confirmed 99 members of the Lower House and 30 Senators but also marked the opening of ordinary sessions of the XLIX legislative period.
The interim presidency of the General Assembly fell on Jose Mujica, as the first Senate candidate of the most voted sector of the most voted party.
Under Uruguay's electoral system only the Executive office is exposed to a runoff, while the Legislative represents the strict results of the 'first round' in the last Sunday of October, which on this occasion was on the 27th.
The legislative results of October showed that the ruling coalition Broad Front was the most voted party, but short of the 50% plus one majority demanded for the Executive to avoid the runoff.
In effect the sum of the seven different parties of the opposition was sufficient to grant it a majority in the Lower House and in the Senate, which meant that for the first time in three consecutive mandates (05/10/15) the ruling coalition, Broad Front, of presidents Tabare Vazquez and Jose Mujica are the minority.
The last lawmaker to take the oath was Mujica, who was sworn in by Senator Lucia Topolansky, who happens to be his wife, and is the outgoing president of the General Assembly, but until next March first continues as the current vice president
Next March first she will hand her post to Beatriz Argimón, who completed the winning ticket in the November runoffs with president elect Luis Lacalle Pou.
Under the Uruguayan electoral system, the winning ticket of the Executive includes the president and vice-president who then becomes the president of the General Assembly and the 31st Senator.
In the Lower House the 99 elected members took the oath of office and later voted for the president of the House. In this case it fell on Martin Lema from the National Party, and senior member of the now so called 'multicolor' ruling coalition led by president elect Luis Lacalle Pou.
Lema made a speech opening the legislative period addressed to the House, and to the public which attended the ceremony.
Later in the evening at 19:00 hours there was a brief parade of the Florida Battalion, with its traditional uniforms, which symbolically is the custodian of the Legislative branch.
Lema as president of the Lower House and Mujica as interim president of the General Assembly reviewed the formation and flags, which then marched in front of the Legislative Palace.