Incoming Uruguayan foreign minister invited by Argentina's Felipe Solá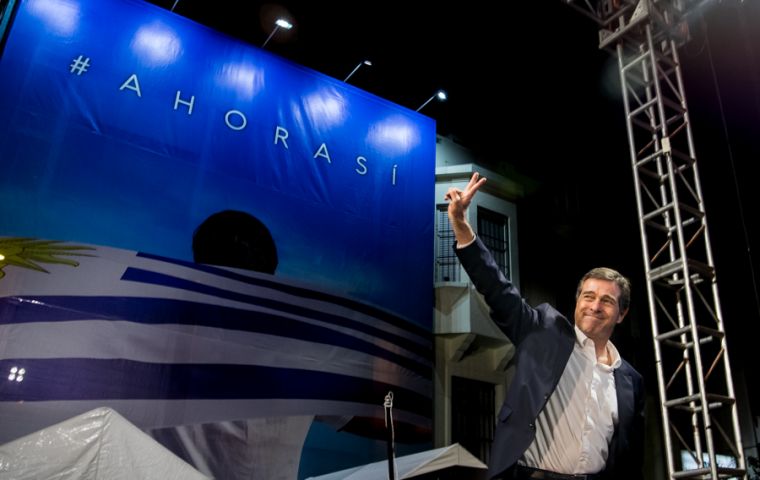 This Tuesday the incoming Uruguayan foreign minister Ernesto Talvi will be in Buenos Aires on an invitation from his future peer Felipe Solá, which has been interpreted as the first formal contact between the Kirchnerite government of Alberto Fernandez and that of president-elect Luis Lacalle Pou, who takes office on March first.
The meeting is scheduled to take place at the San Martin Palace and is part of the "strategic relevance" that the Argentine government places on relations with neighboring Uruguay, after Alberto Fernandez openly supported the Uruguayan incumbent candidate, Daniel Martínez during the presidential campaign, and who was defeated by a coalition led by Lacalle Pou.
According to Argentine sources the agenda will include bilateral relations, Mercosur and the Parana-Paraguay waterway, the fluvial network that connects, Uruguay, Argentina, Brazil, Paraguay and Bolivia.
The incoming government of Lacalle Pou has made Mercosur, a main foreign policy issue, but "a modern and flexible Mercosur", meaning basically that its members can reach bilateral agreements with third countries, and not as now which it is limited to a consensus of the group.
"Our relations are with States, not with governments, certainly not because of ideological affinities, but rather based on interests", Lacalle Pou has been quoted adding that "for a small country such as Uruguay this means the confluence of the region's countries interests".
It should be pointed out that the next Argentine ambassador in Montevideo is Alberto Iribarne, a very close friend and advisor of president Alberto Fernandez.
Last week the Uruguayan future minister Talvi was in Brazil on an invitation from foreign minister Ernesto Araújo with whom they addressed "relevant issues of current international relations and more specifically in Latin America". Brazil is Uruguay's second most important trade partner, and the incoming Lacalle Pou administration is closer politically to the Bolsonaro government.
The outgoing catch-all coalition which has ruled Uruguay for the last fifteen years abhors of conservative Bolsonaro, and are very close friends and defenders of Venezuela, Cuba and Nicaragua.