IMF chief denies any haircut on the Argentine loan; Alberto Fernandez questions the decision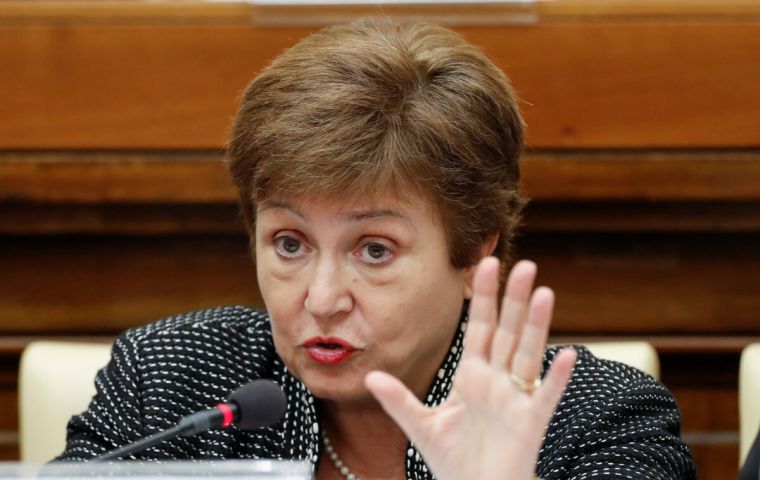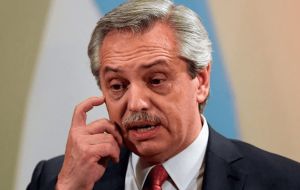 The International Monetary Fund, as the lender of last resort, won't offer a haircut on its Argentina loan after Vice President Cristina Fernandez de Kirchner called on the institution to take a loss.
Cristina Fernandez statement was strongly supported by president Alberto Fernandez who accused the IMF of violating its own rules by lending to "a compulsive credit taker", such was the case with his predecessor, the administration of president Mauricio Macri.
"Our legal construct is such that we cannot do measures that may be possible for others without this big global responsibility," Managing Director Kristalina Georgieva said on Sunday in Dubai.
On Monday president Alberto Fernandez argued that the IMF in effect overlooked its rules and loaned money to an administration trying to control the foreign exchange but which at the same time ended in a massive capital flight.
"The Fund was turning its back on its obligations when it lent money to a compulsive credit taker, who could under no circumstances repay and everybody knew the resources received were to finance capital flight and the foreign exchange, so now I believe they could reflect on this and consider a possible haircut", Fernandez said during a radio station interview.
"In rational terms what Cristina explained was on the right track, the IMF's interests come later", insisted the Argentine president.
An IMF technical mission is in Buenos Aires through Feb. 19 to meet with Argentina officials and assess the country's debt sustainability. Talks with the IMF, to which Argentina owes US$ 44 billion, will be key for an even bigger negotiation with bondholders to avoid a default.
"We do understand the necessity to look at the debt burden carefully -- it is the job of the government, not the IMF," Georgieva said when asked about the "deep debt restructuring" posed by Economy Minister Martin Guzman.
More time is needed to obtain data on the country's debt sustainability, Georgieva said. The IMF continues to back Alberto Fernandez's government in its efforts to resume economic growth, she said.
"Broadly speaking, we are very supportive of the commitment of this government to stabilize the economy, return to growth," Georgieva said.
Members of the Productive Development Ministry held meetings with the mission on Feb. 13 that were "mostly informative in nature", Minister Matias Kulfas told reporters in Buenos Aires. IMF officials asked for details on a so-called social pact the government is advocating to tame inflation, which includes food and utility price freezes.
"We explained that in our view, inflation has many causes," Kulfas said. "Focusing on tackling inflation only through monetary policy leads to mistakes. We can control inflation with a consistent macro, fiscal and monetary plan."