Argentine health minister says no Covid-19 cases in the country; all suspects proved negative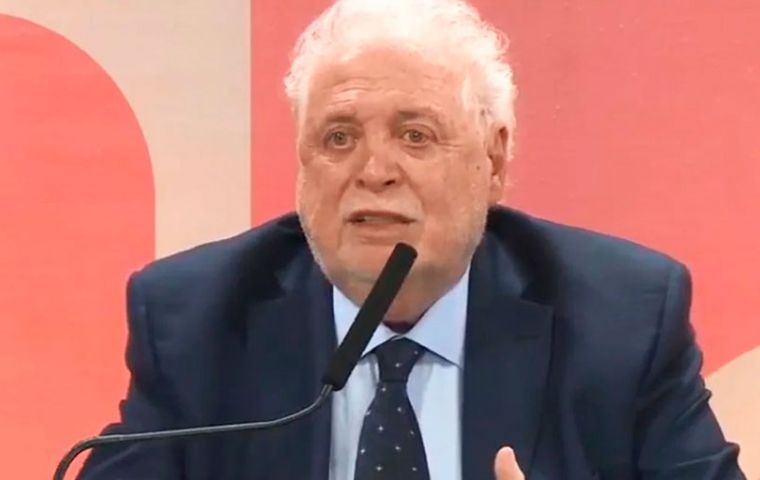 Argentina's Health minister Gines Gonzalez García reported on Wednesday from Cordoba that the 21 cases of suspected Covid-19 finally proved negative and underlined that all protocols to face the epidemics are active and in place to try and contain any outbreak.
"We have no confirmed case of Covid-19. The 21 suspected cases have been analyzed and they proved negative", said the minister who added that the whole Argentine sanitary system is active and in place for the early detection of the virus and the "isolation and treatment protocol" in the event of suspected cases of the virus.
Gonzalez García said there has been an excess of concern about the virus, but this anyhow is positive for the overall sanitary situation in Argentina. The country is also suffering of outbreaks of the mosquito transmitted dengue and of measles, for which Argentine has distributed some eight million vaccines.
The Argentine minister said that "80% of Covid-19 cases are mild and don't need hospitalization" and to that respect mentioned the only case reported and confirmed so far in Sao Paulo, Brazil, where the 61-year old patient after treatment is recovering at his home.
The minister mentioned suspected cases in Cordoba, Ushuaia, Buenos Aires City which were double tested at the Malbran Institute in Buenos Aires, which has a worldwide reputation, and all proved negative. Currently there is a young adult, 18 year old, who returned on 23 February from a three weeks long trip to the north of Italy and UK, and is under observation at an Ezeiza hospital.
"We are waiting for test results, the same with a 59-year old man who visited Italy and had respiratory symptoms on his return", said Gonzalez Garcia. He also mentioned a couple living in La Plata who returned from a cruise trip and had flu like symptoms. "The first tests proved negative, we are waiting for the second samples".

Meantime the Argentine Health ministry reported that a 69 year woman from Lomas de Zamora in the province of Buenos Aires had died of dengue, following a trip to Paraguay where the disease is endemic. This is the second case this season in the province.
Finally the Argentine minister said it was a very positive initiative to have all Health ministers from the 24 provinces to meet and consider the challenge of "Vaccination as a State policy priority". For this the federal government has acquired 1.2 million anti meningitis vaccines which it will begin distributing in the first week of March. Likewise some eight million of vaccines against measles have been provided country wide.