Argentina's disease concern is with dengue and the 3.000 cases reported so far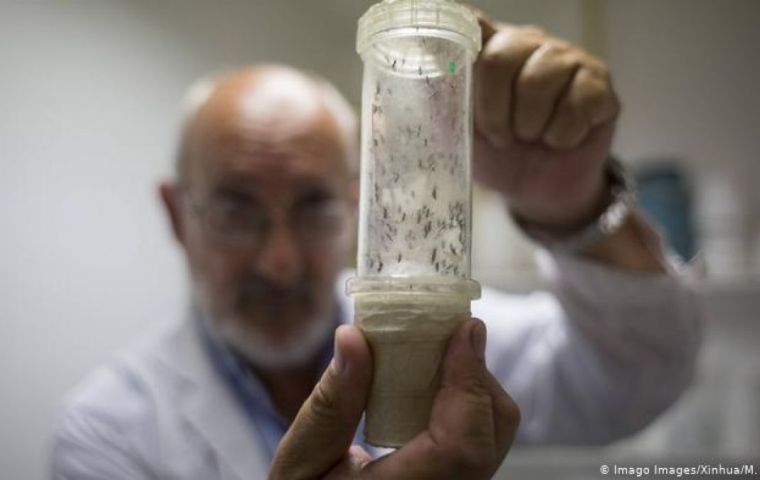 Covid 19 might not be a priority in Argentina at the moment, although there are some cases under observation, but what is really threatening is the mosquito-transmitted dengue with 152 cases confirmed in the province of Buenos Aires and some 3.000 in the northern provinces of Misiones and Corrientes.
"We have a repeat of sustained autochthonous dengue cases with outbreaks in at least fourteen municipalities in metropolitan Buenos Aries", according to the Epidemiologic Bulletin from the province released on Friday.
"We have 152 cases confirmed in lab tests, of which 117 had previously travelled to Paraguay where the disease is endemic with the rainy season and has reported 34 deaths so far", added the bulletin.
Of the confirmed cases, 35 have no previous reports of having travelled to areas where there is a viral circulation. The two deaths reported so far, both in their sixties had travelled to Paraguay returning at the beginning of February.
The provincial health ministry recalled the symptoms of a dengue situation, high fever, above 38 Celsius; respiratory difficulties; headaches, blurred sight, strong cramps in muscles and joints, bad temper, plus red rashes in arms and legs, diarrhea, nausea and vomiting.
Bleeding of nose and gums can also happen, so immediate medical treatment in needed plus reporting cases.
As to precautions at home, eliminate any recipients holding water, and likewise that can collect rain water, buckets, drums, empty cans. The same with roofs that help collect water, make sure they drain properly. Change the drinking water of pets and animals every day.
In the northern province of Misiones, governor Oscar Herrera Ahuad admitted that in the last six months, 2.859 cases are under observation, "but we consider them as confirmed and act on them to contain the spread of the virus"
The governor also recalled that the province of Misiones borders with Paraguay and Brazil which together have some half a million confirmed cases.
Meanwhile in Corrientes, also in northern Argentina, 101 positive cases have been reported this summer, but there are also 809 cases being tested in three different outbreaks in the province.
Dengue is transmitted by the Aedes Aegypti mosquito which proliferates in the rainy season of tropical and semi tropical climates such as Paraguay, Brazil, Bolivia and northern Argentina.