Argentina increases soybean exports tax 10%, from 30% to 33%: small farmers will pay less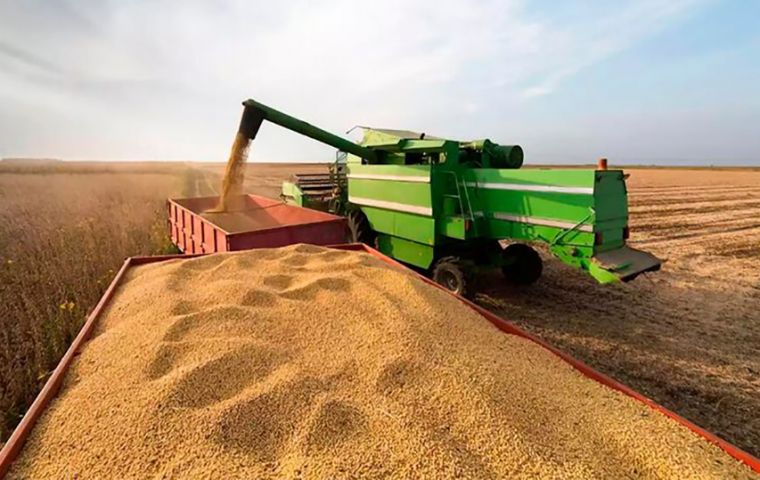 Argentina raised taxes on soybean exports to 33% from the current 30%, a spokesman for the CRA confederation of farmers said on Tuesday following a meeting with government officials.
A spokesman for Argentina's Ministry of Agriculture off the record confirmed the advance but also said it involved several graded tiers. A government decree providing details of the new tax policy was expected to be published on Wednesday, Gustavo Idigoras, head of grain exporters and processors chamber CIARA-CEC, revealed.
The ministry had suspended on Feb. 26 the registration of agricultural exports until further notice in a move that traders said likely foreshadowed an increase in grains export taxes.
The suspension of the register prohibits grains exporters from making new deals. The suspension had slowed export operations since last week but was expected to be lifted in the days ahead, Idigoras said.
Cash-strapped Argentina, in recession and on the cusp of a sovereign debt restructuring, is a major corn and soybean supplier as well as the world's top exporter of soymeal livestock feed.
Apparently under the new scheme only those farmers with a crop production of over a thousand tons will be paying the increased levy. Those family farmers with less than 500 tons annually will actually pay below the previous 30%, and in the 500/1000 tons tier, the levy remains at 30%.
Wheat, corn, sorghum, milk, cotton, fresh fruit, wine, legumes and wine will remain in the 5% tier. Fish exports is not clear yet but could see a reduction of its export levies.