Commonwealth 2020: "Delivering a common future"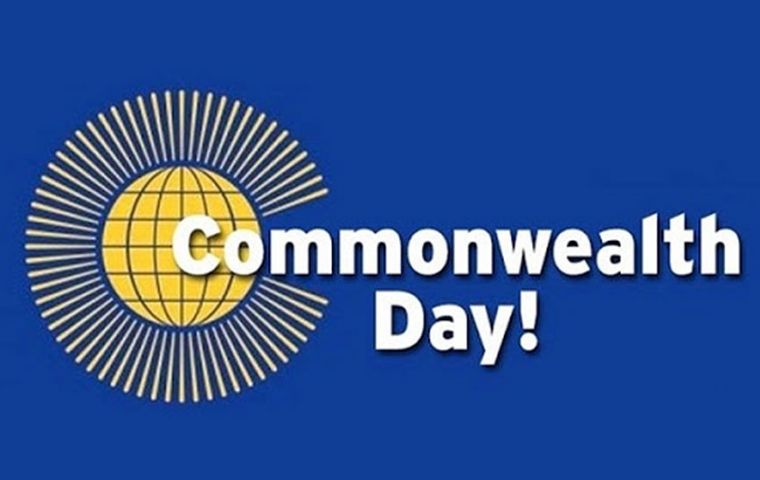 On Monday members of the royal family attended a service at Westminster Abbey to celebrate Commonwealth Day. As well as a message from Queen Elizabeth II, the service also featured speeches from heavyweight boxing champion Anthony Joshua and performances by singers Craig David and Alexandra Burke.
The Queen, as Head of the Commonwealth, was joined by Commonwealth Secretary-General Patricia Scotland at Westminster Abbey for the multi-faith service to celebrate the day.
The Commonwealth is made up of countries in Africa, Asia, the Caribbean and Americas, the Pacific and Europe, which are home to over two billion people combined.
As well as praising the 54 member states' efforts to protect the environment, the Queen described the Commonwealth as a "worldwide family" and a "very special community" in her message.
This year's event is centered around the theme "Delivering a Common Future", highlighting how the 54 member countries in the Commonwealth family are 'innovating, connecting and transforming' to help achieve some of its biggest goals like protecting natural resources and boosting trade.
The Queen's Commonwealth Day Message:
On Commonwealth occasions, it is always inspiring to be reminded of the diversity of the people and countries that make up our worldwide family. We are made aware of the many associations and influences that combine through Commonwealth connection, helping us to imagine and deliver a common future.
This is particularly striking when we see people from nations, large and small, gathering for the Commonwealth Games, for meetings of Commonwealth governments, and on Commonwealth Day. Such a blend of traditions serves to make us stronger, individually and collectively, by providing the ingredients needed for social, political and economic resilience.
Throughout my life, I have had the opportunity to see and hear how membership of the Commonwealth family means so much to those living in all parts of the world, often in places that are quite remote. Advances in technology and modern media have now enabled many more people to witness and enjoy - with remarkable immediacy - this experience of Commonwealth connection, in areas such as education, medicine and conservation.
Looking to the future, this connectivity means we are also aware, perhaps as never before, that wherever we live, our choices and actions affect the well-being of people and communities living far away, and in very different circumstances. For many, this awareness awakens a desire to employ our planet's natural resources with greater care, and it is encouraging to see how the countries of the Commonwealth continue to devise new ways of working together to achieve prosperity, whilst protecting our planet.
As members of this very special community, on this Commonwealth Day, I hope that the people and countries of the Commonwealth will be inspired by all that we share, and move forward with fresh resolve to enhance the Commonwealth's influence for good in our world.
ELIZABETH R

Message from the Secretary-General of the Commonwealth
Public gatherings to raise the Commonwealth flag on Commonwealth Day have swiftly become well established as an imaginative annual demonstration of Commonwealth connection. They provide a splendid opportunity every year for people from all walks of life to join with others in their local community to celebrate Commonwealth Day in association with fellow citizens throughout our worldwide family.
Together we number over 2.4 billion people, a third of the world's population. Each and every one of us has something very special to offer, and as Commonwealth citizens we gain and draw benefit from vast interconnected networks of mutual support and collaboration.
Commonwealth connection, and the values and principles we share, offer opportunities for valuable international cooperation and for increased individual fulfilment. People from nations and territories in every continent and ocean cherish the rich diversity of our membership and the deep sense of affinity and kinship we share.
By working together in practical ways in our local communities, and by interacting and cooperating across national boundaries, we build and sustain a more strongly connected Commonwealth that is mutually respectful, resilient, peaceful and prosperous and that cherishes equality of opportunity and inclusiveness.
Our theme this year is: 'Delivering A Common Future: Connecting, Innovating, Transforming'.
On Commonwealth Day we come together to acknowledge publicly and collectively the continuing aspiration of the Commonwealth to build on common traditions and uphold our shared values of democracy, inclusive development and respect for diversity.
Local and national flag raising ceremonies in school yards, on village greens, in town squares, and on mountaintops and beaches, bring greater understanding and appreciation of the values and principles of the Commonwealth Charter - to which the governments of all Commonwealth countries subscribe, and to which each of us individually as Commonwealth citizens can recommit ourselves on Commonwealth Day.
I send my best wishes to all involved, saluting you and wishing you well as you raise both the Commonwealth flag and awareness of all that we achieve together through Commonwealth connection, friendship and cooperation.