Argentina to strengthen fisheries patrolling in the South Atlantic
Saturday, March 14th 2020 - 09:46 UTC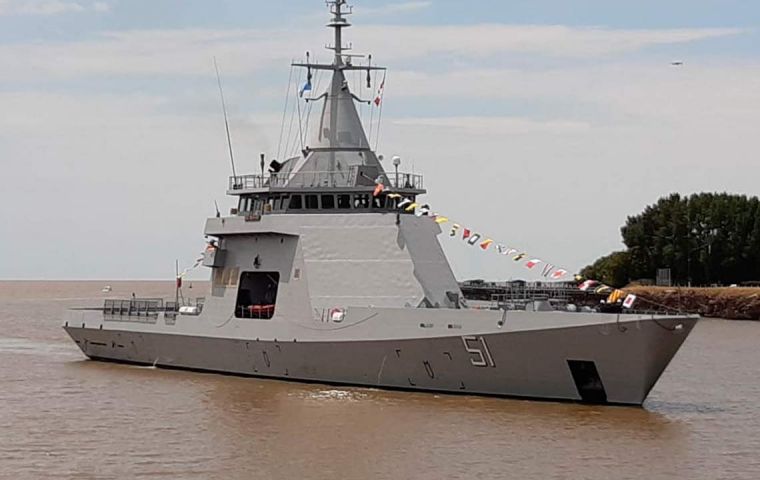 Argentina is going to strengthen control over its EEZ, to protect resources, and quite soon the recently acquired "ARA Bouchard" will be setting sail for its first patrolling, according to Argentine fisheries and navy officials.
Carlos Liberman, Fisheries Under Secretary met with top brass from the Navy, the head of the Fisheries Department Alejandro Gottifredi; the head of Maritime Interests and the director of Fisheries coordination and inspections, Luca Pratti.
ARA Bouchard is a French refurbished Gowind Class Ocean Patrol Vessel that includes a helicopter and was recently incorporated to the Argentine navy. "She's the first of four units, which are expected in the coming years".
In a recent speech Argentine president Alberto Fernandez anticipated he would be sending a bill to congress to increase fines of those vessels and companies involved in illegal fishing in the country's EEZ. Likewise a bill helping to clearly outline the borders of Argentina's continental shelf which according to the Law of the Sea for coastal states can extend until mile 350.
The Argentine foreign ministry has also been active and recently hosted "2020, the super year of the Oceans and advancing on negotiations for a new biodiversity treaty referred to waters outside national jurisdiction"
The agenda of the meeting included negotiations for Marine Protected Areas, and Global Fishing Watch technology which is used to keep track of fishing fleets activities. Two of the strongest Argentine private fisheries lobbies participated in the conference.
According to participants the idea is not only to protect national jurisdictions, but also regulate operations in the adjoining mile 201, following on international rules on the issue. Argentina argues that the South west Atlantic is the only ocean which lacks a fisheries ruling outside the EEZ. This is particularly serious since several migratory species such as hake and squid are exposed to the consequences, and could easily lead to an over exploitation scenario in the South Atlantic