Coronavirus: Argentina unveils stimulus package; ample support from the political system to the strategy
Thursday, March 19th 2020 - 08:59 UTC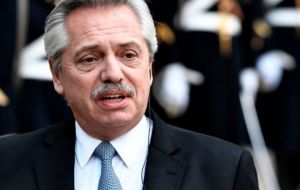 Argentina unveiled this week a 700 billion Pesos (some US$10 billion) stimulus package to try to sustain economic activity, avert shortages of food and medical supplies, help companies and protect workers and vulnerable groups affected by the worsening Covid 19 pandemic.
These are decisive measures to ensure that economic activity will continue and that Argentine society is protected in a context in which working conditions are going to be different," Economy Minister Martín Guzmán said in a televised press conference
He said the package would also seek to keep the market properly supplied with essential goods, while also keeping prices under control.
"The situation is dynamic," Guzmán said. "We will be monitoring the situation day by day and we will be announcing new measures."
The government will make 350 billion Pesos in direct payments to help unemployed workers, pensioners, family allowance beneficiaries and those on welfare. The measures also include suspending social security payments for companies in the most affected sectors, including airlines, hotels, movie theaters and restaurants as well as manufacturers unable to import raw materials.
The government will put 100 billion Argentine Pesos toward public works projects, including money to build homes and fix up schools. It will also re-launch a program that offers people low-interest loans to build and repair houses.
Argentina has a considerable percentage of its workforce in the black economy and another significant number who figure as self employed and make their income in a daily basis in the services industry, construction or simply street vendors, which makes it quite difficult to reach them with the announced benefits.
Prices will be capped on key personal hygiene and medical supplies for the next month, possibly for longer, and inspections will be stepped up of retailers to make sure they comply, the Economy Ministry said in a statement.
Another 350 billion Pesos or so will come from state banks. The central bank will open up a 320 billion Pesos credit line for companies to borrow at a preferential rate of 26% per year — less than the 38% benchmark rate — for 180 days to keep their businesses afloat, according to the ministry.
Banco Nación, the largest state-owned bank, will offer 25 billion Pesos in credits for producers of food, personal hygiene, cleaning products and medical supplies to keep up output. Another 8 billion Pesos will be made available for companies to buy computers and other technology so their employees can work from home.
The government this week closed schools, international borders, entertainment venues, sports events and national parks until March 31, potentially for longer, and told people to stay home in a bid to contain a spread of the coronavirus COVID-19, which President Alberto Fernández called "an invisible enemy."
According to the World Health Organization (WHO), which declared the outbreak a pandemic on March 11, Argentina had 98 confirmed cases of the coronavirus and three deaths as of March 18.
At the news conference, Production Minister Matías Kulfas said the stimulus package is designed to minimize the impact of the virus on the economy, which is in its third year of recession, by protecting the population and its productive sectors.
"The fundamental objective is for products to maintain their prices," Kulfas said. "We understand that today industry has idle capacity. It can produce more. It is perfectly feasible to supply this increase in demand and we will use all the tools available so that speculative practices are penalized."
Argentina was using 56% of its installed manufacturing capacity in January, according to the latest data from Indec, the state statistics agency.
Before closing schools and enacting other measures to slow the spread of the virus, most economists had expected the economy to contract 1.2% this year, according to a monthly survey by the central bank. But with the outbreak, forecasts are grimmer, predicting a drop of up to 3% as people stay at home and consume less.
President Alberto Fernandez has held a round of meetings with political leaders including from the opposition, and on Thursday with provincial governors to better coordinate efforts. The political system, professional groups and academia have praised the approach to address the pandemic.