Coronavirus: Mercosur members coordinate actions and frontier movements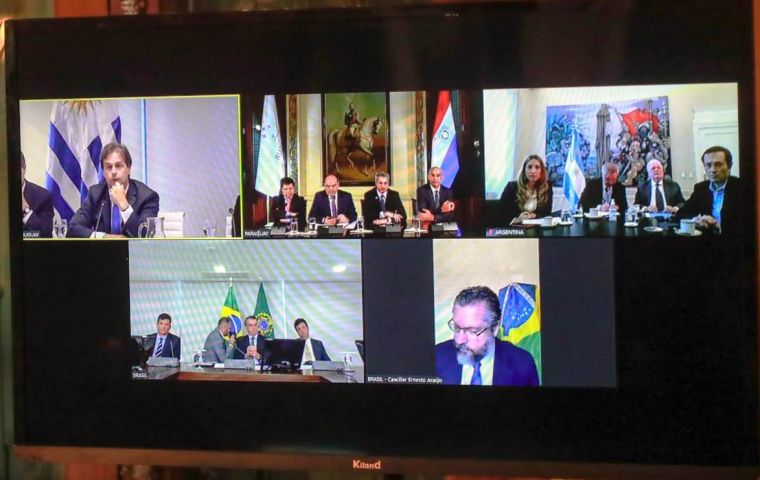 Mercosur country members agreed on Wednesday to share information and statistics on the coronavirus evolution as part of a common strategy destined to combat the pandemic, which included facilitating the return of ex-pats and ensuring the movement of goods among the block.
Decisions were made during a video conference coordinated from Paraguay, currently chair of the group, and with the participation of host president Mario Abdo Benitez, Uruguay's Luis Lacalle Pou, Brazil's Jair Bolsonaro and Argentine foreign minister Felipe Solá. The presidents were supported by their respective Health ministers.
Following the meeting the Mercosur release said that it was a virtual meeting to deploy joint lines of action given the advance of the coronavirus, and one of the priorities is to facilitate the return of citizens to their respective countries of origin.
"There will be a daily exchange of lists of people wishing to return and the governments will make the arrangements, particularly those countries that have operational flag air carriers".
The purpose of the meeting was to ensure the transit of goods and services to support the regional economy. Country members will also inform their associates of any frontier measures which might affects air, land or fluvial transport, with special mention of the frontier crossings which will remain open.
Mercosur foreign ministries will be responsible to establish a system to collect and inform of the different measures adopted by member countries as to facilitate a fluid exchange.
More specifically on the movement of goods is was agreed to remove obstacles that might make it difficult or impede such trade. This will mean adopting measures to make transit and transport of supplies and essentials more agile such as food, and hygiene and health care products.
The meeting also considered the convenience and possibility of lowering tariffs on goods and health care essentials to help combat diseases, and for which the Mercosur trade commission was tasked with elaborating proposals for that purpose.