Oil prices collapse below US$ 30 a barrel and could drop to US$ 20, Goldman Sachs estimates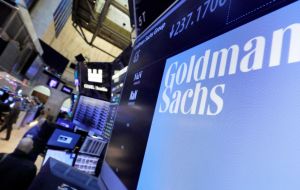 U.S. oil prices reached their lowest point since 2003 on Wednesday as the coronavirus has reduced demand in countries around the world. The prices fell for a third session, with U.S. crude Clc1 reaching US$ 25.06 per barrel, the lowest prices since late April 2003. As of 11:35 GMT, U.S. crude Clc1 hit US$1.51 cents or 5.6 percent at US$ 25.44 per barrel.
The last time the prices were that low, the U.S. had recently invaded Iraq and China was rising in the global economy, sparking an increase in global oil consumption to record levels.
Meanwhile, Brent crude LCOc1 traded down 95 cents at US$ 27.78 a barrel after reaching US$ 27.56, the lowest point since early 2016.
"The oil demand collapse from the spreading coronavirus looks increasingly sharp," Goldman Sachs said in a note to clients.
Goldman Sachs projected in the note that Brent crude would decrease to as much as US$20 in the second quarter, which the prices have not seen since early 2002. The bank predicted that the global demand would decrease 8 million barrels per day by late March and 1.1 million per day annually, which would be a new record.
Consultant firm Rystad Energy anticipated a drop of 2.8 million barrels per day around the world in 2020. "To put the number into context, last week we projected a decrease of just 600,000 barrels," Rystad said.
Iraq's oil minister is requesting an emergency meeting between the Organization of the Petroleum Exporting Countries (OPEC) and non-OPEC oil producers to take action to stabilize the market. Russia and Saudi Arabia's battle for market shares has also put additional pressure on the market.
The price drop comes as countries around the world are investing trillions of dollars into fighting the spread of the coronavirus, including instituting travel and social restrictions.
The virus has infected more than 203,000 people worldwide, killing more than 8,200 with more than 82,100 recoveries, according to data from Johns Hopkins University.