Argentine economy contracted 2,2% last year and could drop another 2% in 2020
Thursday, March 26th 2020 - 08:45 UTC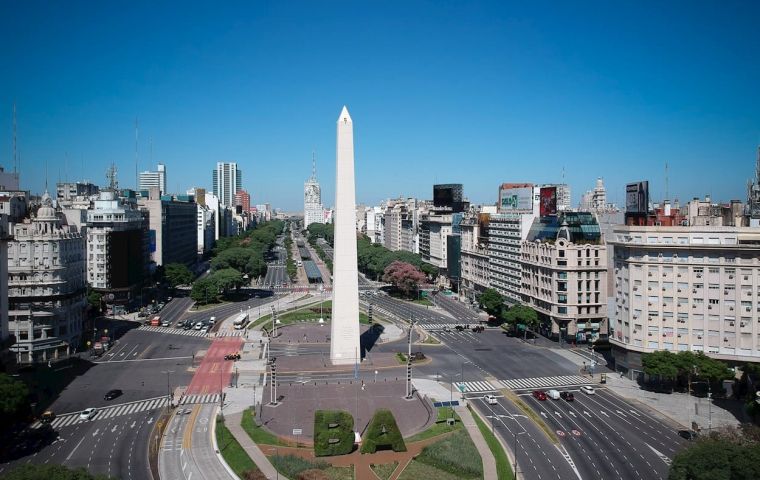 Argentina's GDP contracted 2.2% last year, hit by the downfall of manufacturing, retail and financial activities, according to the official stats office, Indec. In the last quarter of 2019 the economy dropped 1% over the previous quarter and 1.1% compared to the fourth quarter of 2018.
Comparing 2019 with 2018, when GDP contracted 2.5%, industrial production was down 6.3%, public utilities, water, power and natural gas, 2.8%, construction collapsed 5,5%, wholesale and retail 7.8% and fishing industry 10.3%
To this must be added a fall of 0.7% in Transport and Communications, 11.5% in financial activities, 0.6% in real estate operations.
The collapse was not greater because agriculture and livestock surged 21.5%, on the boost of a recovered soybean crop, badly hit by the 2018 drought. Another sector which responded was mining and quarries, because of the upsurge of activities at the shale deposits in Vaca Muerta, 1,2%.
Likewise Education expanded 0.3% and social and health services, 0,3%.
At current prices last year's GDP amounted to almost 22 trillion Pesos, which was 30% higher than in 2018, but with inflation at 53.8%.
According to Indec the 2019 GDP took off with a 5,8% drop in the first quarter compared to 2018, but during the second quarter it was flat mainly because of the soy crop and Vaca Muerta shale, which helped compensate the fall of consumption, manufacturing and construction.
But in the second quarter the slide returned 1,1% down, and similarly in the fourth quarter, another 1,1%, which were decisive for the overall 2,2% contraction.
Based on these numbers Economy minister Martín Guzmán anticipated that growth would fall between 1.5% and 2% this year and hopefully in 2021, a recovery of 2% to 3% could be expected. However these estimates were done before the current Argentine lockdown because of the Covid 19 pandemic.
Private market-consulting firms anticipate a different diagnosis. Invecq estimates the Argentine economy will drop at least 3,5% this year with a drastic fall in fiscal revenue, because of the need of more funds to face the consequences of the virus and the need to issue more liquidity. Likewise Ecolatina estimates a contraction of 2% this year.