Falklands suspends schools, nurseries and play-parks until 4 May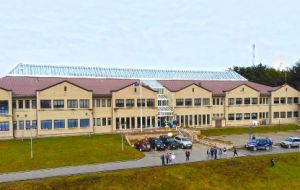 The Falkland Islands government, FIG, is stepping up its response measures to COVID- 19 after it was confirmed that the King Edward Memorial Hospital (KEMH) is currently treating a critically ill child. Chief Executive Barry Rowland said that although it has not been confirmed, it is suspected that the child has contracted Coronavirus. Under the new phase of the response, schools, nurseries, and play-parks will close as of Friday 27 March and will not re-open until at least the start of the new term on 4 May.
The Education department will provide a childcare service for children of essential workers. Parents of such workers will have been contacted by the Education Department, Barry Rowland said, urging parents of children who have not been contacted by the Education Department not to take their children to school.
Essential movement only
Mr Rowland said that under the new phase everyone should remain at home and restrict their movement outside their home to essential activities and critical work that cannot be carried out from home.
If you have been asked by King Edward Memorial Hospital to self-isolate because you have cold/flu symptoms AND you have developed a fever (a high temperature), your whole household – all those living with you, must self-isolate for 14 days.
Anyone whose family member arrives by plane into the Falkland Islands must ensure that their family member self-isolates for 14 days. If they are not able to isolate from other members of the household, the whole household must self-isolate.
Mr Rowland said: "These actions are ESSENTIAL to protect everyone, especially the most vulnerable, and ensure that the demand on the health service is limited.
"The situation will be kept under constant review. It could change, and, when test results are known, we may step up, or scale back some restrictions."
Critical sectors
Critical and key services and essential workers are described as those falling under the following categories:
Health and social care - including:
• Doctors, nurses, midwives, paramedics, social workers, care workers and any other frontline health and social care staff who need to remain at work
• Support and specialist staff required to maintain the sector
Key public services - including:
• Those essential to the running of the justice system
• Those responsible for the management of the deceased
• Media and broadcasters who are providing public service broadcasting and the Government Communications team
Government - administrative occupations essential to delivering:
• The response to coronavirus
• Key regulatory services
• Essential public services, including the payment of benefits, and key treasury functions
Food and other necessary goods including:
• Those involved in food production, processing, distribution, sale and delivery
Public safety and national security - including:
• Police and required support staff
• Fire and rescue service employees
• Those maintaining border security
• Prison and probation staff
Transport - including:
• Those who'll keep FIGAS and ferry passenger and freight and passenger transport supporting the response
• Shipping links including SAAS
• Port operators
Utilities, communication and financial services - including:

Staff needed for:
• Essential financial services provision
• Electricity and water sectors, including sewerage
• Fuel supply
• Information technology and data infrastructure sector
Key staff working in the following sectors:
• Telecommunications
• Emergency repair workers
• Accommodation providers
• Postal services
•Agricultural workers
Anyone unclear about where your function or activities sit please contact the Secretariat on 28450 (Penguin News)