Argentina satisfied with pandemic quarantine results, extends the circulation ban until 12 April
Monday, March 30th 2020 - 08:56 UTC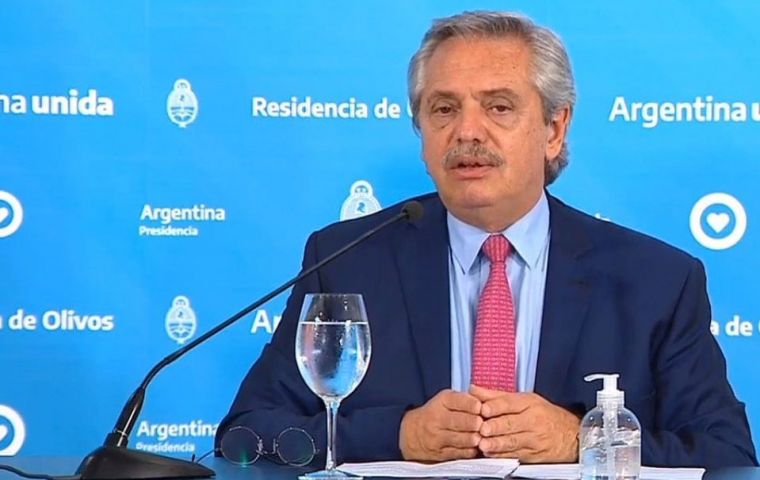 Mandatory quarantine measures that permit citizens to leave their homes only for essential reasons will remain in place in Argentina until April 12, President Alberto Fernandez announced on Sunday.
"I have decided to extend quarantine until the end of Easter Holy Week. We are prolonging preventive compulsory self-isolation," the president stated on an evening press conference to update the population on the performance of the drastic imposed.
The mandatory self-isolation measures were meant to expire next Tuesday, after being imposed by the government on March 20.
Easter Holy Week, one of the most important religious holidays for Roman Catholics, will take place from April 5 to 11
Quarantine measures in Argentina stipulate that citizens cannot leave their homes except to purchase essential food items or pharmaceutical drugs.
The government has pledged to open criminal charges against people who violate the self-isolation regulations.
"I think results so far have been successful, and we are managing to flatten the contagion curve, thus the significance of all of us remaining at home", insisted the president, who has an overwhelming support from the population.
However he has also been criticized for concentrating too many efforts in the sanitary preventive campaign and not many in the economy.
"Without looking or caring for the economy, at the end we will all be dead on in a survival civil war, since production has ceased", said economist and former presidential hopeful Jose Luis Espert.
The economist anticipates a bankruptcy of most small and medium sized enterprises unable to comply with salaries and other inputs, and legal and fiscal contributions. In other words the quarantine to flatten the exponential growth of cases is as important as ensuring the production machine continues to operate.
But again the president replied that "The choice is to take care of the economy or take care of lives, and I chose to take care of lives. We can recover the economy but we can't bring back life".
However in Latin America, where huge numbers of people rely on the informal economy to survive, good options for an overall coverage of the whole informal economy are not easy to implement.
In effect in Brazil, president Bolsonaro has openly campaigned to get the economy running again because so many people from the informal economy depend on a daily income. Bolsonaro has downplayed the risks and publicly of Covid 19 and clashed with state governors who are taking stringent measures to combat the virus locally.
Fernandez's move to put Argentina into quarantine was deeply influenced by the World Health Organization's March 11 announcement that the coronavirus was a pandemic. Dr. Maureen Birmingham, the WHO representative in Argentina, is in constant communication with the authorities and Fernandez himself.
But it is also true that previous to the announcement of a lockdown, Fernandez spoke with the Italian and Spanish prime ministers, Giuseppe Conte and Pedro Sanchez, to hear their experiences.
He also wanted to buy time for Argentina's fragile health-care system by trying to flatten the curve as soon as possible. The president speaks on a daily basis with the governor of Buenos Aires province and the city's mayor, where most cases are concentrated.
Fernandez admits publicly his strategy will put the economy in a bigger hole, and has added that he expects cases to peak in the first half of May.
In 2018, half of Argentine workers were in the informal economy, according to the research institute at the Universidad Catolica de Argentina, including jobs like street vendors and household workers.
The government's financial response to the crisis has attempted to bridge that gap, with measures like extra payments for low-income parents and pensioners, a 10,000-peso (US$ 155) transfer for informal and some independent workers in April, and a price freeze on 2,300 essential products. Likewise with rents and evictions, and mortgages.
The government has also offered soft loans for companies at 24% interest when the annual inflation is double that percentage.
"We saw what was happening in Europe, we had the images in newspapers of Spain and Italy, countries very close to us, that created anxiety and stress in Argentina, and the government went out to attack the situation," said Juan Negri, a political science professor at Torcuato Di Tella University in Buenos Aires. "President Fernandez is trying to anticipate the worst case scenario of a social crisis exploding."
Implementing the quarantine has not been an easy job for the security, federal and provincial forces. According to numbers released only in the metropolitan area of Buenos Aires some 375.000 people have been questioned, and some 10.000 have been detained for been unable to explain why they were circulating. Special forces, media, health staff, essential jobs, have been extended a special pass which enables them to circulate.
Finally Argentina's Health Ministry on Sunday reported 820 cases of Covid-19 since the start of the outbreak, with 20 deaths. A total of 75 new cases were added in the last 24 hours.