Australian cruise vessel stranded in Montevideo; following medical checks, healthy passengers could be released
Friday, April 3rd 2020 - 07:58 UTC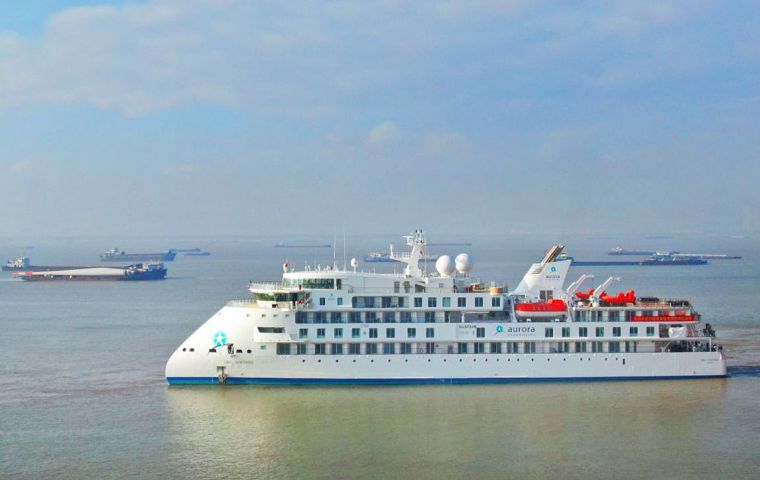 Uruguay's foreign and public health ministers have said that none of the over 200 people on board the cruise vessel Greg Mortimer will be allowed to disembark in Montevideo for the moment since several passengers and crew members seem to have coronavirus symptoms.
Anyhow, "the decision is to provide all the necessary medical support for anybody on board" said foreign minister Ernesto Talvi. The Aurora cruise remains in the port of Montevideo sound.
Earlier this week a 69 year old Australian with high fever and respiratory insufficiency was evacuated to the Montevideo British Hospital where he tested Covid 19 positive.
"We're working with the Health ministry to find a solution for the vessel, and medical care will be provided for passengers and crew members, but the problem is the 14 day quarantine", said foreign minister officials.
However Montevideo port authorities said preparations are ready if dismemberment takes place, "we have a peer available for that option and we have the experience of recent vessels and the humanitarian corridor to the airport of Carrasco for charters to fly people home", anticipated officials.
The Greg Mortimer came from Ushuaia in the south of Argentina and is scheduled to sail for Las Palmas, Canary Islands.
Aurora Expeditions managing director, Robert Halfpenny in a letter to passengers said that the Covid 19 patient was in a critically ill condition, but receiving the "best care possible" in Montevideo.
The ship's doctor and at least three crew members are among those who developed fevers, Mr Halfpenny said. Another three unwell people have since been identified with symptoms.
"While we have enormous assistance and understanding of the situation, it will not be clear cut – but we and the governments working with us know that we must find a way to get you off the ship as soon as possible," Mr Halfpenny said in the letter.
Mr Halfpenny said in the letter that there would be comprehensive testing of all healthy passengers but warned it would be difficult to "maintain the same standard of essential services on board" due to the ill health and isolation of the crew.
A second Antarctic cruise ship, the Ocean Atlantic with about 120 Australians on board was allowed to dock at Montevideo port earlier this week and all Australian and New Zealand passengers have since flown out of Uruguay on chartered or commercial flights.
The passengers were allowed to disembark after undergoing health checks said the ship's operator Chimu Adventures. Uruguay has implemented a humanitarian corridor policy, between the port and the international airport, following medical checks and charters waiting to evacuate passengers.