Sanitary aircraft on Thursday will fly "Greg Mortimer" cruise Australians to Melbourne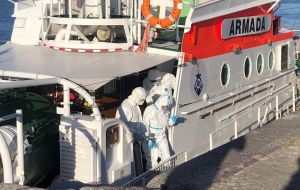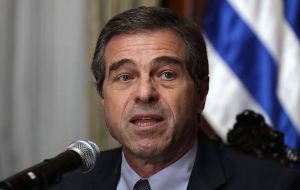 A charter flight is expected in Montevideo on Thursday, April 9 to pick up and fly home to Australia most of passengers and crew on the "Greg Mortimer", the cruise vessel stranded off the coast of Uruguay for the last two weeks because 128 people on board have tested positive for Covid 19.
The sanitary aircraft was contracted by cruise company Aurora, and the flight was agreed after discussions between Uruguay and Australia. The aircraft is flying in from Lisbon to Montevideo and Melbourne is its final destination, as reported by the Uruguayan foreign ministry..
Uruguay, as it has done previously with other cruise vessels facing similar situations, will establish a "humanitarian corridor" from the port of Montevideo to the international airport of Carrasco for Australians and New Zealanders who will be flying home.
On Sunday and Monday, Uruguayan health authorities checked all passengers and crew for coronavirus, and 128 tested positive and 89 negative, but the host country is working of the presumption that all on board are contaminated.
"Despite tests showing a number of negative cases, we're working on the hypothesis that all are contaminated" Uruguayan foreign minister Ernesto Talvi said on Tuesday.
Bahamas flagged "Greg Mortimer" with over 200 passengers and crew has been anchored some twenty kilometers off the port of Montevideo, and Uruguayan authorities have evacuated eight people with "risk of life" who have been hospitalized in private medical institutions. She was not scheduled to call in Montevideo, and was first denied docking by the Foreign and Health ministries.
Aurora Expeditions reported that those hospitalized in Montevideo are in a "stable condition" while those on board tested positive are not showing "fever symptoms".
The aircraft which will be arriving to Montevideo on Thursday is an Airbus 340 with special medical equipment and is scheduled to follow the Covid 19 protocol for these flights.
Regarding other nationalities, Europeans, US and Asian, "will have to wait until they test negative before a flight to Sao Paulo can be organized, and from there to their final destinations. Those who tested negative, following another test and authorization from Uruguayan officials will be allowed ashore to immediately fly overseas, anticipated minister Talvi.
"Greg Mortimer" was scheduled to visit Tierra del Fuego, Falkland Isands, South Georgia and Antarctica, before returning to Ushuaia. However after leaving Ushuaia on March 15, the cruise vessel was not allowed into the Falklands because of local Covid 19 precautionary measures, and Montevideo was the only port along the Atlantic coast with a chance of disembarking.
Uruguayan medical staff said that "Greg Mortimer" now believe Covid 19 contagion could have taken place when crew members went ashore in Ushuaia, a busy tourist harbor in the south of Argentina.
Foreign minister Talvi said the Covid 19 positive cases that remain on board are in permanent contact with local health authorities and additionally Aurora Expeditions have contracted two Venezuelan doctors to monitor the situation directly on the cruise vessel.
Talvi also mentioned that so far the "humanitarian corridor" established by Uruguay has helped 734 cruise passengers from 41 different nationalities come ashore and fly home from Carrasco airport. US, UK and Canadian embassies in Montevideo have publicly acknowledged Uruguay's gesture in the repatriation process.