COVID-19 infected "Greg Mortimer" Australians expected to leave for Melbourne on Saturday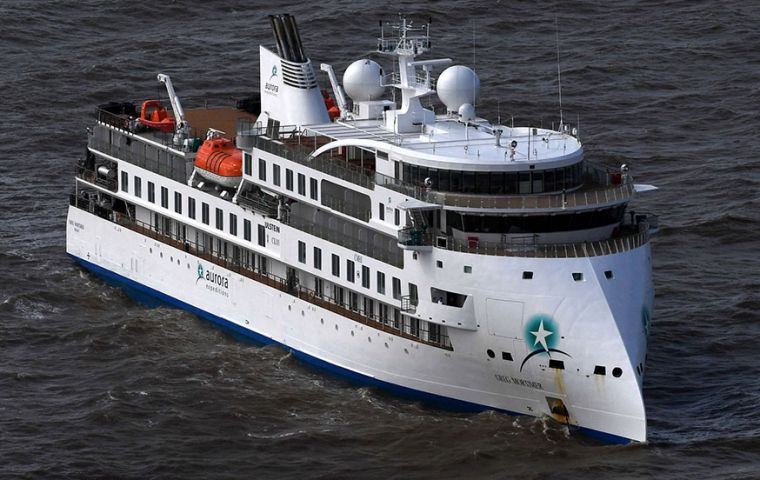 The sanitary charter aircraft contracted to repatriate Australians on board the coronavirus infected "Greg Mortimer" cruise, stranded off the Uruguayan coast is expected this Thursday in Montevideo, and will be flying to Melbourne on Saturday according to foreign ministry sources.
The Bahamas flagged "Greg Mortimer" has been stranded for the last week some twenty kilometers off the Uruguayan coast with 200 plus passengers and crew members, of which 128 have tested positive for COVID-19 according to Uruguayan health authorities which checked all those on board. Furthermore the Uruguayan navy has had to evacuate some ten passengers from the cruise vessel, including two this Wednesday, an Australian couple, since they were considered life risk cases. All of them are in isolation conditions in local private hospitals.
The vessel was on an Antarctica cruise, having left from Ushuaia March 15, with scheduled calls in the Falklands and South Georgia, but apparently was not prepared when some passengers fell ill with symptoms of possible COVID-19 cases. Since Argentina, Chile and Brazil had locked borders, air, land and sea, and the Falklands unable to address such a potential number of cases, the vessel headed for Uruguay, whose authorities have helped with cruise passenger repatriations in similar situations.
Australia and Uruguay then started discussions to try and organize the repatriation with so many countries locked down and closed borders. US, UK and Canadian embassies in Montevideo have been involved in similar successful operations quite recently.
Anyhow Uruguayan authorities have admitted that taking all Australians and New Zealanders ashore, sick and healthy, and then to the airport is not an easy task to coordinate. Plus all the migration and paperwork such a humanitarian operation demands. Apparently healthy passengers could have to spend a night in Montevideo hotels, specially conditioned for such circumstances while the rest will be taken in ambulances directly to Carrasco from the port of Montevideo.
"We we are working very closely to try to finalize this charter flight as soon as possible and to ensure that the maximum number of Australians who are on that vessel are able to fly." That includes both those to have tested positive and negative. Once arriving in Melbourne they will all be required to stay in isolation for two weeks.
The Airbus A340 plane contracted to fly the Aussies and Kiwis home "is configured with medical facilities and staff aboard... to look after the health and security of everyone," said Aurora. It is estimated it will be taking off from Carrasco on Saturday.
Most passengers on the "Greg Mortimer" are Australian and from New Zealand. Crew members are mostly Filipinos.