"Bolsonaro's government is over; the question is how it makes it to 2022", Senate president
Monday, April 13th 2020 - 12:22 UTC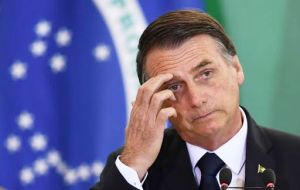 The chief of the Brazilian Lower House, Rodrigo Maia has held a round of political talks and contacts to discuss the current course of the government and attitude of president Jair Bolsonaro regarding the current Covid 19 pandemics.
According to Brazil's political magazine with the largest circulation, Veja, the round included party leaders, tribunal ministers and senior members of the Senate, and they discussed the situation at the Planalto Palace (seat of the Executive) and the lack of political articulation in Congress of what is left of Bolsonaro's party.
Veja sources indicated that it was the head of the Senate, Davi Alcolumbre who was the most critical of the Bolsonaro administration, and apparently his words were, "this government is over", the big question is "whether it will make it to 2022".
However the idea of promoting an impeachment process against Bolsoanro was not on the table. The latest public opinion polls show the president still enjoys 30% support, although some 51% of Brazilians believe Bolsonaro's attitude regarding the virus pandemic is more disturbing than helpful.
Anyhow the overall opinion of the meetings of Congressional leaders was that the government must pick up the debris of its actions in the coming months, but with no prospects of reaching agreements on structural reforms or bills on public security, two of Bolsonaro's main campaign issues and promises.
But this did not prevent the political leaders to discreetly begin talks on the possibility of a constitutional reform to implement a semi-presidential system, that is including a prime minister.
Furthermore two crucial ministers of the Bolsonaro cabinet, Justice and National Security, Sergio Moro, and Economy, Paulo Guedes are well aware that the two projects, structural reforms, strengthening borders and combating organized crime, are practically buried, since any resources following the virus pandemics will have to be invested in putting the economy back on its feet.
Senate president Davi Alcolumbre also recalled that it was the Upper House's responsibility and not the Brazilian Supreme Court, which should throw out any possible Bolsonaro decree putting an end to self isolation and social distancing. However the comment was too late because Minister Alexandre de Moraes from the Supreme Court on request from state governors and city mayors, specifically banned any Executive decree referred to ignoring the special measures to combat Covid 19.
Bolsonaro all along has argued that the main challenge for Brazil is the economy and ensuring jobs, and people who make their daily income in the streets, downplaying the threat of coronavirus as a "mild flu".