"UK not past the virus peak", so no lifting of lockdown anytime soon, Raab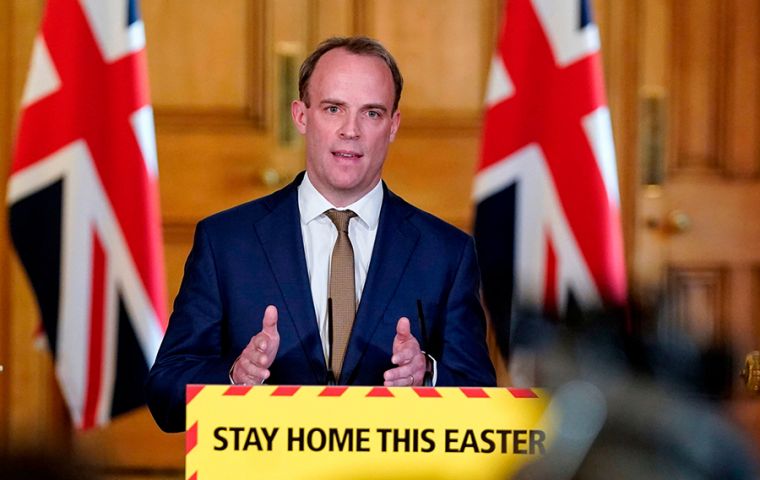 The British government warned on Monday it would not be lifting a nationwide lockdown anytime soon as the country remains in the grip of a coronavirus outbreak that has claimed more than 11,000 lives.
Foreign Secretary Dominic Raab, who is deputizing for Prime Minister Boris Johnson as he recovers from his own bout of COVID-19, said there were some "positive" signs of progress.
But he warned at a daily media briefing: "We're still not past the peak of this virus."
The government must decide by Thursday whether to maintain three-week-old rules to keep schools and shops shut and order people to stay in their homes to try to stop the coronavirus spreading.
"We don't expect to make any changes to the measures currently in place at that point, and we won't until we're confident as we realistically can be that any such changes can be safely made," Raab said.
He said that "if we eased up too early, we'd risk a second wave" of infections.
New figures from the health ministry on Monday revealed that 11,329 people hospitalized with coronavirus have died in Britain, making it one of the worst-affected nations in the world.
This number is up 717 on the previous day, down from previous daily tolls. However, data on a Monday is often lower due to underreporting at weekends.
Johnson became the most high-profile world leader to contract the virus last month and spent a week in hospital - including three days in intensive care - before being discharged on Sunday.
"The prime minister is focusing on his recovery, and he's not currently carrying out government work," Johnson's spokesman said on Monday.