Greg Mortimer: Climate delays evacuation of passengers from Australian cruise stranded in Montevideo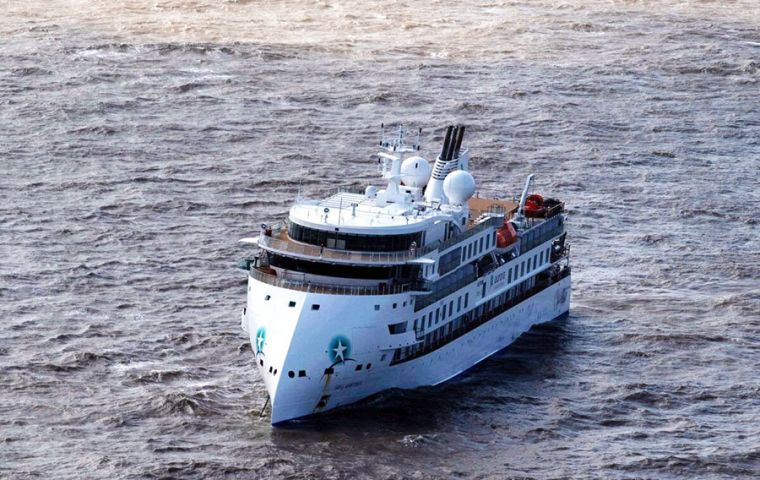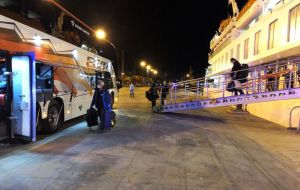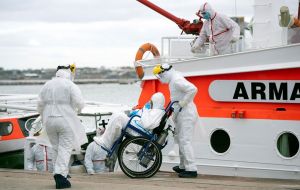 The last passengers residing on an Australian ocean liner, anchored off Montevideo for more than two weeks with cases of COVID-19 on board, will be evacuated to the United States by a medical chartered flight, announced on Tuesday the American embassy in Uruguay.
"The passengers who remain on the liner Greg Mortimer, including six Americans, will be evacuated to the States -United on a medical flight, organized by the cruise ship Aurora Expeditions," said the embassy in a statement.
About 25 passengers, including six Americans, five British and one French, as well as 80 crew members, are still stranded on board the liner, after the evacuation on Saturday of some 110 Australians and New Zealanders who were able to take a special flight to Melbourne (Australia).
The ship, owned by Australian cruise ship Aurora Expeditions, arrived off the coast of Montevideo on 27 March with more than 200 passengers and crew members, of which at least 128 were contaminated with COVID-19, according to tests carried out on board by Uruguayan health teams.
Before the first evacuation flight, eight people had been disembarked for hospitalization in Montevideo after the worsening of their state of health. Five are still hospitalized and a sixth is expected to be hospitalized quickly, according to Uruguayan Foreign Minister Ernesto Talvi.
The medical plane should have arrived on Tuesday in Montevideo and take off on Wednesday at 5pm local time for Miami in Florida in a 737-800, "if the weather allows it", but it all depends on climate conditions since the strong wind impedes the cruise vessel from entering the port of Montevideo.
European nationals should in particular be able to then take flights from Miami to their respective countries.
The transfer of passengers to Montevideo International Airport will be done through a "humanitarian corridor", as was done on Saturday evening for Australian and New Zealand nationals after the temporary docking of the ship at port of Montevideo.
The 80 crew members will remain in quarantine on board the ship pending the cruise operator's decision.
The Greg Mortimer had left Ushuaia, in the extreme south of Argentina, the 15 March for a cruise to Antarctica, Falklands and South Georgia. But the crossing has been shortened due to the appearance of suspected coronavirus cases. After being driven back at the Falkland Islands, the ship set sail for Montevideo.
The U.S. Embassy in Montevideo worked extensively with several U.S. government agencies to gain approval for the flight and for citizens of other countries to transit through the United States.
The United States extends its gratitude to Uruguay for its continued efforts to repatriate U.S. citizens during this global crisis. These actions reflect the United States and Uruguay's shared humanitarian traditions and commitments to international cooperation.