Second humanitarian corridor for Greg Mortimer's passengers will depart this Wednesday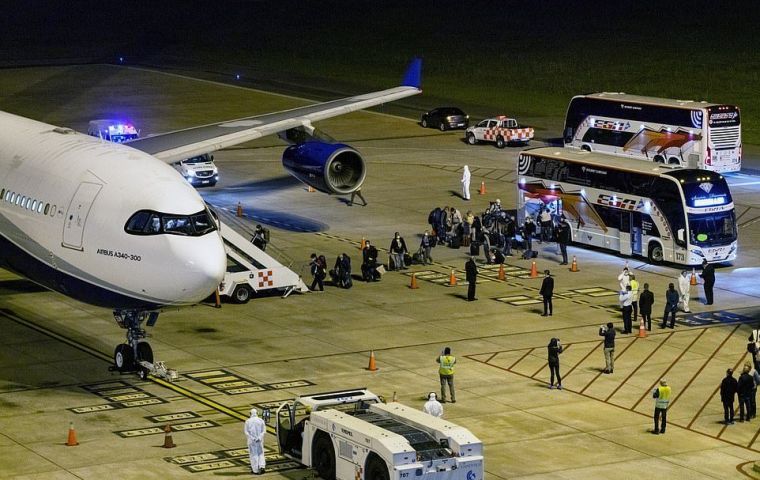 The Uruguayan government announced on Tuesday that it will evacuate the remaining passengers on the Antarctic cruise ship Greg Mortimer through a second humanitarian corridor. There will be about 15 passengers who have remained in the ship anchored in front of the port of Montevideo, where there are people with the COVID-19 disease.
"There will be a second humanitarian corridor to evacuate the rest of the Greg Mortimer passengers, a plane will arrive today [April 14] at night and, in principle, it will leave tomorrow [April 15] 5pm a medical flight that is going to evacuate Americans, Canadians and Europeans who remain on the ship," Foreign Minister Ernesto Talvi reported at a press conference.
The second evacuation was expected to be delayed due to weather conditions on previous days.
Only five passengers from the Australian cruise ship who are hospitalized in Montevideo will remain in Uruguay, one of them will be discharged this April 14, added the foreign minister.
A passenger will be transferred directly from the British Hospital of Montevideo to the airport since her state of health allows her to travel, added the Foreign Ministry.
In addition, a hundred crew members, mostly Philippines citizens, who have remained on the cruise ship in front of Montevideo for more than 15 days, continue to carry out the quarantine on the ship and then head towards Las Palmas, Spain, which was the original destination, added the minister.
If a serious case of COVID-19 appears in the crew, Uruguay will evacuate it to hospitals in the capital, as has been done so far.